Deutsche Bank has published a report announcing that Bitcoin is too important to ignore as it becomes the third-largest currency in value
Deutsche Bank Research has published a report stating that the third-largest currency is now Bitcoin, in relation to the total value in circulation, making it one of the most important currencies in the world.
The published report is titled "Bitcoins: Can the Tinkerbell Effect Become a Self-Fulfilling Prophecy?" The author, Dr. Marion Laboure, wrote: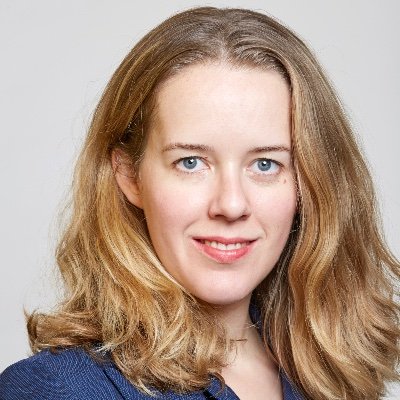 "Bitcoin's market cap of $1 trillion makes it too important to ignore. As long as asset managers and companies continue to enter the market, bitcoin prices could continue to rise."
The report goes into detail on how Bitcoin serves as a currency, commodity and equity. There is also information regarding Bitcoin's market cap since it is currently "the top ten, both as a currency and as a stock."
"In terms of total currency in circulation, bitcoin is the third-largest in the world, after the US dollar and the euro."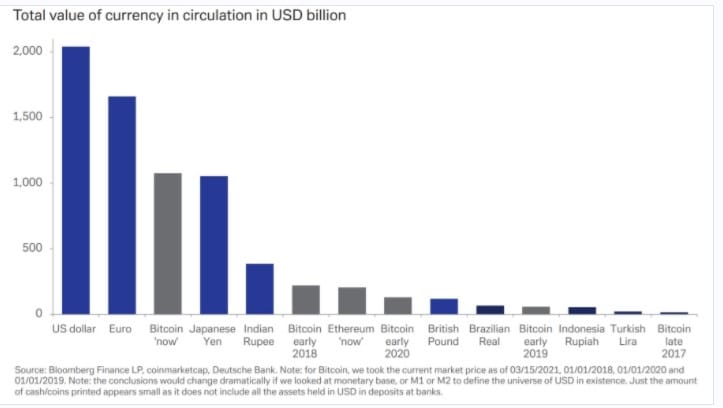 Laboure also claimed that Bitcoin's value will continue to fluctuate depending on what people believe it is worth. Therefore, the Tinkerbell Effect comes into play. This is a known economic term where the power is in the people's hands. The more people believe in Bitcoin, the more the value will increase.
Furthermore, due to the people's belief in Bitcoin, which has propelled the cryptocurrency into the top 3 currencies in the world, Laboure believes that worldwide regulation is on its way:
Central banks and governments understand that cryptocurrencies are here to stay, so they are expected to start regulating crypto-assets late this year or early next year.
However, the Deutsche Bank analyst stated that in the medium to long term period, it will be difficult to see Bitcoin replace other traditional currencies as a "widespread means of payment."
Digital and crypto currencies are becoming the norm with Bitcoin entering the mainstream as a reserve asset for the world. Laboure's analysis on Bitcoin's long term future is definitely up for debate. The cryptocurrency has surprised many people throughout the years and it will be intriguing to see whether Bitcoin can continue to surprise central banks and financial experts alike.
Source: Bitcoinnews
About AIBC Dubai:
AIBC UAE will take place on the 25th to 26th May, 2021, in the emirate of Dubai. The event will bring together key brands and individuals from the converging sectors of AI, blockchain, IoT, Quantum Tech to discuss and shape the future of emerging tech.
It is one of the leading events globally for blockchain, AI, crypto, and other emerging technologies, and gathers together an elite selection of delegates, policymakers and thought leaders from across the globe. Such international recognition has helped propel AIBC Summit become a favourite on the world circuit for emerging tech conferences and expos.