FinCEN's cryptocurrency wallet proposal is suspended as Biden looks to appoint someone to review new and pending proposals
The 46th President of the US has frozen all types of new measures carried over from Trump's administration, including the Financial Crimes Enforcement Network (FinCEN) proposal which would have an effect on cryptocurrency wallets.
The purpose of this freeze is:
"In order to ensure that the president's appointees or designees have the opportunity to review any new or pending rules."
Fortunately, the regulatory suspension has been met with open arms from the crypto community as Jake Chervinsky, who was at the forefront for the crypto community when submitting comments to FinCEN, tweeted: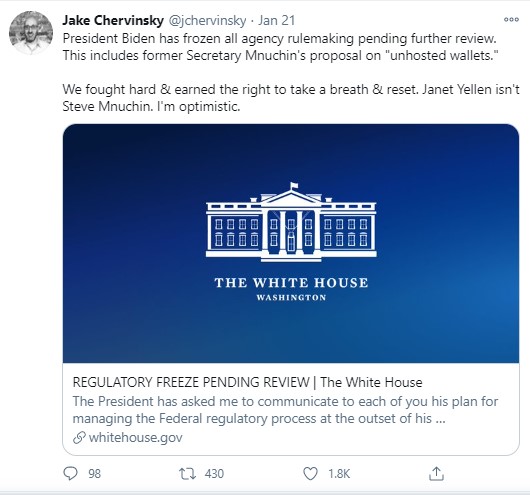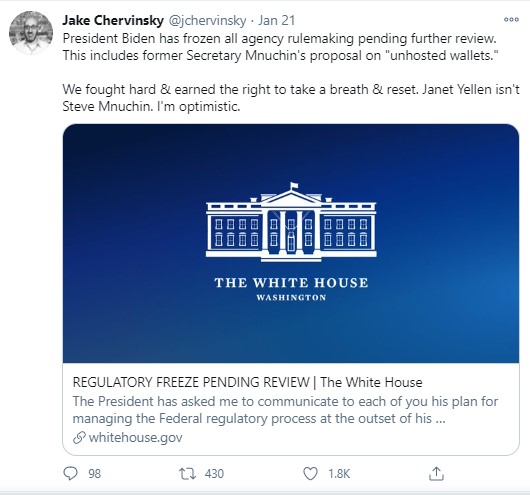 However, Biden has chosen Yellen to become the new Treasury Secretary, who is known for not being a fan of Bitcoin and cryptocurrencies as she believes that it is mainly used for illegal financing.
There is also belief that any positive changes related to crypto that happened under the Trump administration will be reversed under Biden's, as the former chief of the Office of the Comptroller of the Currency (OCC), Brian Crooks, warned. These may include allowing banks to provide crypto protection services and use public blockchains.
Brooks also highlights a concern he has regarding a proposal forwarded by Maxine Waters that will reverse all the innovative products and services from the past four years. Waters has proposed that banks will not be able to keep cryptocurrency assets.
Brooks, a former top bank regulator, is urging the Biden administration not to mix politics and innovation.
About AIBC:
AIBC Summit is a global expo covering topics relating to the global sectors for blockchain, AI, Big Data, IoT, and Quantum technologies. The event includes conferences hosted by globally renowned speakers, workshops for industry learning and discussion, an exhibition space accommodating more than 400 brands and a number of networking events.