NBA franchise owners and long time crypto advocates have formed an NBA Blockchain advisory committee for the NBA
An advisory committee including well known billionaires and blockchain advocates has been formed in relation to blockchain.
The billionaires involved in this committee own NBA teams such as the Brooklyn Nets, Dallas Mavericks, Washington Wizards, Boston Celtic, Sacramento Kings and the Utah Jazz.
The reason for this committee is due to the NBA looking at the possibility of incorporating blockchain and crypto solutions in the industry within the near future.
Sportico.com contributors, Scott Soshnick and Eben Novy-Williams spoke to blockchain advocate and Dallas Mavericks owner, Mark Cuban (pictured) on the new committee.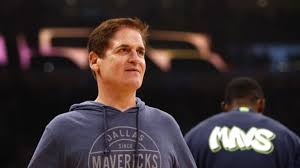 Cuban told Soshnick and Novy-Williams that this new committee has little to do with NBA TopShot (a platform which allows people to trade and buy digital collectibles of NBA moments) and is more focused on blockchain applications.
In addition to Mark Cuban, the NBA Committee's members include:
Joe Tsai (Brooklyn Nets)

Ted Leonsis (Washington Wizards)

Steve Pagliuca (Boston Celtics)

Vivek Ranadive (Sacramento Kings)

Ryan Smith (Utah Jazz)

These members are known to be long term admirers and supporters of crypto and blockchain.
Mark Cuban has been an advocate for blockchain for a long time, with investments in NFTs and crypto alike. So much so that recently, the Dallas Mavericks owner announced that his basketball team will now be able to accept doge coin (DOGE) as a form of payment via Bitpay.
Vivek Ranadive, owner of Sacramento Kings, also allows his basketball team to accept bitcoin. This form of payment was introduced by the owner back in 2014.
Meanwhile, one of Boston Celtics owners, Steve Pagliuca, is also the co-chairman of Bain Capital, which has invested millions over years in blockchain projects.
Blockchain and crypto could have a massive impact in the NBA, providing solutions on:
Ticket systems and purchasing
Giveaways
Digital signed memorabilia from basketball players
The retirement of jerseys and numbers
Cryptocurrencies can be leveraged for all these items alongside those matchday items that fans seek such as merchandise and food and drinks.
About AIBC:
AIBC Summit is a global expo covering topics relating to the global sectors for blockchain, AI, Big Data, IoT, and Quantum technologies. The event includes conferences hosted by globally renowned speakers, workshops for industry learning and discussion, an exhibition space accommodating more than 400 brands and a number of networking events.