The co-founder of Gemini exchange, Cameron Winklevoss, has published an open letter wherein he accuses Digital Currency Group (DCG) of defrauding Gemini and over 340,000 Gemini Earn users.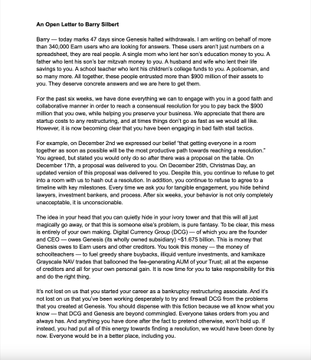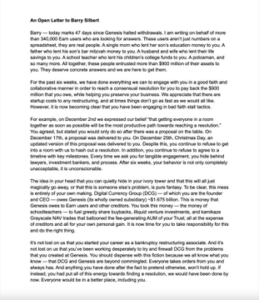 The letter claims that Barry Silbert committed acts of fraud along with others within the companies.
Per the letter, instead of taking steps to restructure and protect users following the collapse of hedge fund Three Arrows Capita (3AC), Genesis – a subsidiary of DCG – 'pretended' to fill a $1.2 billion hole in their loan book. The total amount lent to 3AC was $2.36 billion with losses of at least $1.2 billion. 
Cameron Winklevoss said that "beginning in July 2022, Barry, DCG, and Genesis embarked on a carefully crafted campaign of lies to make Gemini, Earn users, and other lenders believe that DCG had injected $1.2 billion of actual support into Genesis."
Furthermore, Winklevoss described how Genesis apparently provided loans to 3AC without accounting for risks with these loans. He went on to claim that the hedge fund was allegedly diverting investment into Grayscale Investments' GBTC, which didn't allow the Trust to experience a growing discount. Gemini Earn users were exposed to this risk.
The letter concludes:
"There is no path forward as long as Barry Silbert remains CEO of DCG. He has proven himself unfit to run DCG and unwilling and unable to find a resolution with creditors that is both fair and reasonable. As a result, Gemini, acting on behalf of 340,000 Earn users, requests that the Board remove Barry Silbert as CEO effective immediately, and install a new CEO, who will right the wrongs that occurred under Barry's watch."
The official DCG Twitter account dismissed the claims made in the open letter, stating that it "is another desperate and unconstructive publicity stunt."
The Twitter handle goes on to state that they will look to find a solution for all affected parties.