After causing a severe fall of Bitcoin through isolated tweets, a wave of internet hate comments vowed to fight the market's fluctuations
Influential internet personalities have called out Elon Musk for influencing the crypto market. Singlehandedly, the self-proclaimed "Imperator of Mars" caused the Bitcoin to drop from its more than 50k value to temporarily below the 40k margin. Cryptic tweets hinting towards Tesla selling all Bitcoin assets, which proved to be misleading, crossed the line for many industry celebrities and enthusiasts, who proceeded to openly call out the supposed "Dogefather".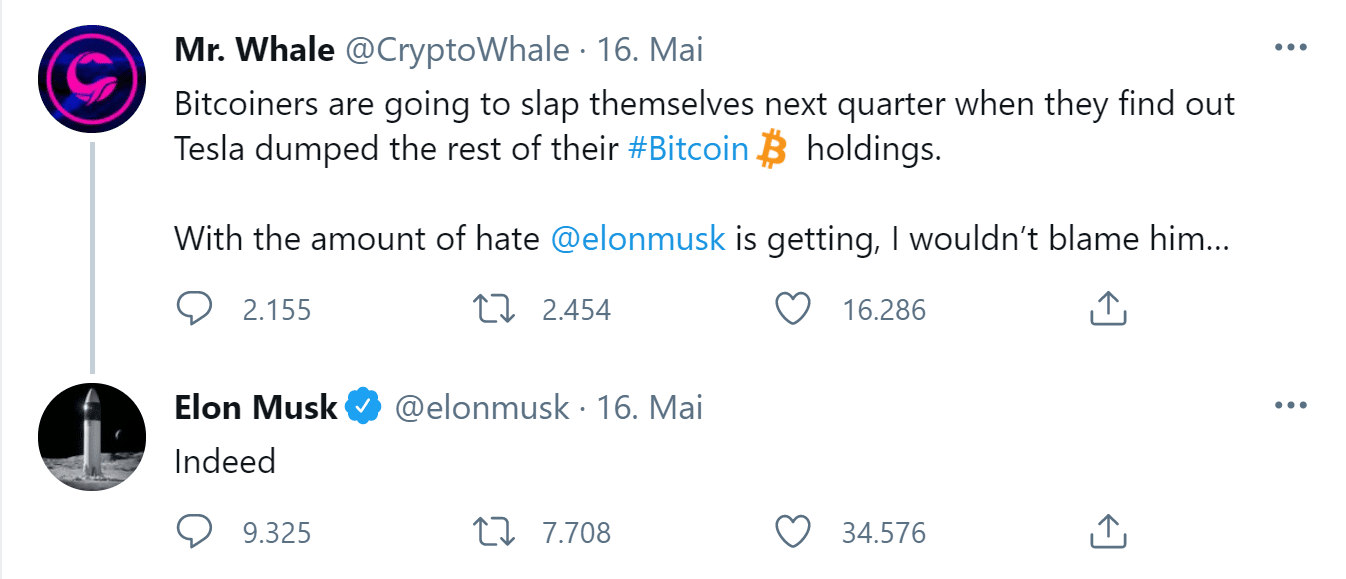 In fact , Tesla is holding its Bitcoin assets, even though transactions with the crypto are discontinued, due to environmental concerns. The one word response to a fellow user, suggesting Musk would initiate a cleansing of the Tesla wallet as a reaction to the hate he was receiving lately, led to an immediate 10% drop of the value. Many crypto fans who had embraced Tesla's move towards Bitcoin now form a choir of discontent through the instant messaging platform Twitter.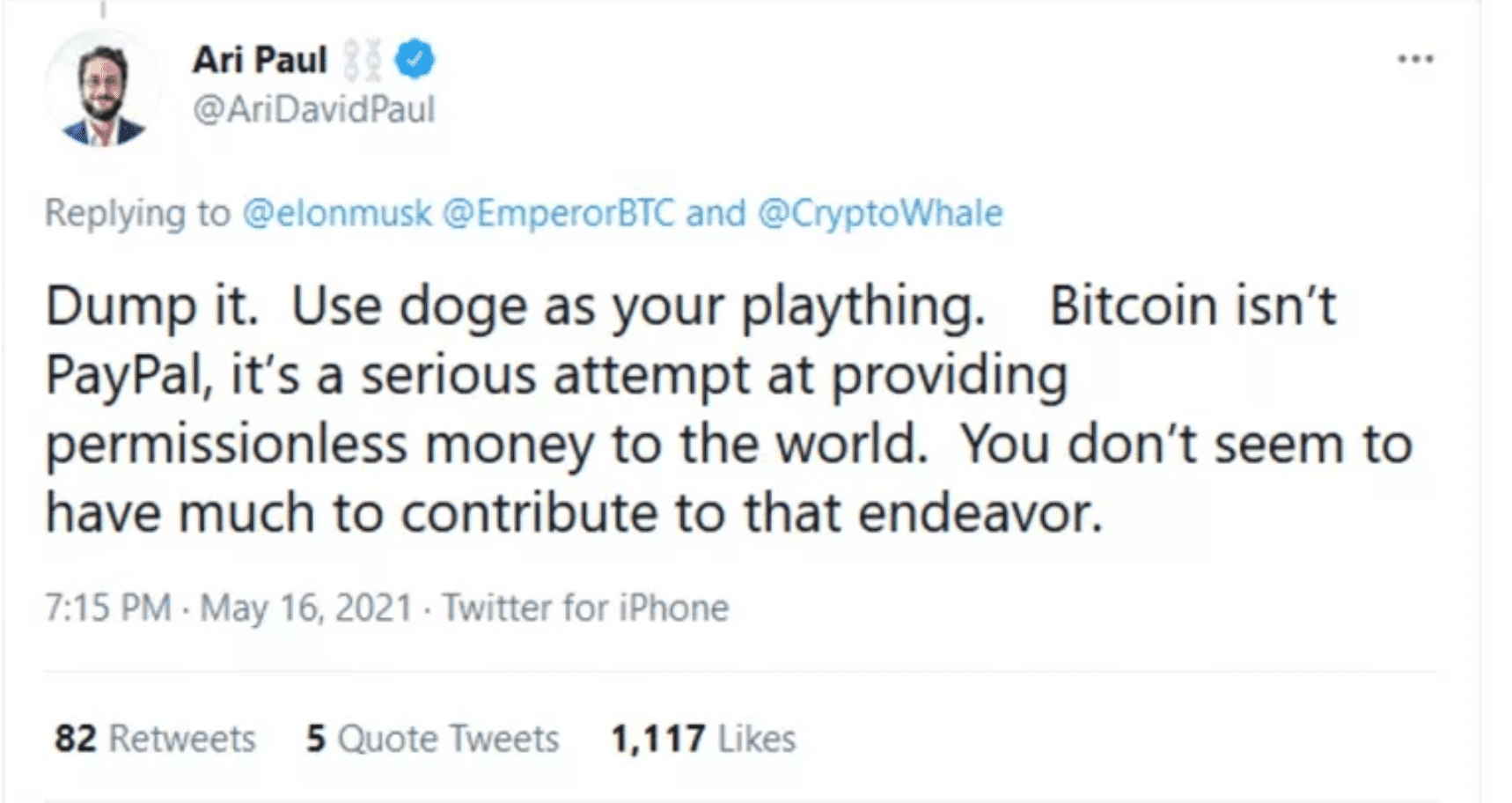 Ari Paul, CIO of BlockTower, accuses Musk of playing around with crypto, and is ready to wish him farewell away from Bitcoin. It is apparent, that the influence of one man on crypto prices is angering miners who wish to protect the decentralised nature of the project.
Journalist and podcaster Peter McCormack believes Musk underestimates the power of Bitcoin's robust decentralisation. In line with impulsive reactions Musk had given to critics in the past, he was not not hesitant to give them a piece of his mind.

Considering the disarray among Musk's powerful fanbase, it is questionable if future posts of the app-space-crypto-billionare will be able to impact the market they way they had so far. After all, the meme-marketing he had so whole-heartedly embraced in the past, which promoted his brands without further ado on an enormous record, was built entirely off of this fanbase. Alongside the discontent, Tesla stocks are crashing like a dysfunctional Falcon 9. While the downwards trend had begun before Musk went on his Twitter frenzy steering crypto value, the curve has sloped even steeper since then. Some Twitter accounts, though not of high calibre, have even called for bringing down the stocks artificially.

AIBC Dubai:
AIBC UAE will take place on the 25th to 26th May, 2021, in the emirate of Dubai. The event will bring together key brands and individuals from the converging sectors of AI, blockchain, IoT, Quantum Tech to discuss and shape the future of emerging tech.
It is one of the leading events globally for blockchain, AI, crypto, and other emerging technologies, and gathers together an elite selection of delegates, policymakers and thought leaders from across the globe. Such international recognition has helped propel AIBC Summit become a favourite on the world circuit for emerging tech conferences and expos.