JP Morgan Chase will pay US $10.6 billion to FIDC (Federal Insurance Deposit Corp) for the purchase of First Republic Bank.
The restructuring costs are indicated to be around US $2 billion. JP Morgan is projected to earn up to US $1 billion in annual income from this deal.
However there has been a fair amount of criticism of this takeover. This is third regional bank failure in a month although the scale of the banking problem this time around is not as negative as the crisis in 2008.
A consolidation of regional banks is possible however it is unlikely at this stage.
84 offices in eight states will reopen as JPMorgan Chase
There were obvious signs of serious problems at First Republic Bank ever since the collapse a few weeks ago of Silicon Valley Bank (SVB) and Signature Bank (SB). It was obvious that things were not going well but there were still doubts whether it was just another bank with not enough insurance on deposits or if the repercussions of the other bank collapses had left more of a serious impact.
The US banking system is sound. We wanted to restore confidence and I am more optimistic now. Its a strong system and I am anticipating more consolidation" Jane Fraser CEO, Citigroup
Trading of First Republic's shares was halted on Friday by the regulators and a deal was brokered over the weekend.
At close of trading on Friday rumours on Wall Street indicated that JP Morgan or PNC Bank would be making the arrangements to purchase the much troubled First Republic Bank immediately. The deal of the purchase was announced as soon as trading started on Monday with the arrangement of the sale being a combined effort by the banking sector and regulators in an effort to stop panic and avoid further bank runs.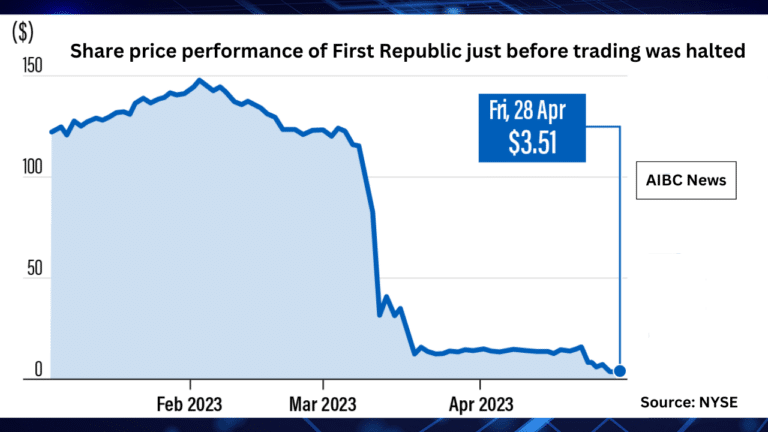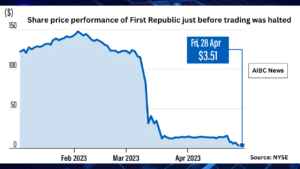 Republic Bank's 84 branches spread in eight states have already been rebranded as branches of JPMorgan Chase Bank.
Regulators worked in unison with major players
This was yet another massive rescue package arranged at such speed and efficiency. It was another collaboration of the regulators and prime players in the banking industry. According to news agency AFP, regulators were considering six banks suitable to make the purchase on Friday but this was narrowed down to a choice of two by close of trading that day.
This part of the crisis is over. Down the road – rates going up, recession, real estate – that's a whole different issue. For now, we should take a deep breath. Hopefully this will help stabilize everything " Jamie Dimon, CEO – JP Morgan Chase
The US government and regulators eventually invited JP Morgan Chase to step in and purchase the troubled bank confirmed Jamie Dimon, Chief Executive of JP Morgan Chase. He added that this was done very quickly to avoid the "risk of a massive customer flight".
The takeover makes JP Morgan Chase an even stronger bank.
First Republic was vulnerable
Before its closure, First Republic was worth more than US $20 billion and had a reputation of serving wealthy clients.
The ripple effect took its toll, starting with Sam Bankman Fried's fraudulent management of FTX. This in turn had a negative impact on SVB and SB. The collapse of the latter two lenders brought about a lot of trouble to First Republic. Both the industry and the bank's customers started to view the bank as vulnerable.
In March there was an attempt to salvage the bank. A consortium of the major global banks that included JP Morgan Chase injected US $30 billion into First Republic. However the situation did not improve as customers were still in fear and continued to make withdrawals.
It was too risky for the regulators not to take control of the situation.
First Republic Bank had a higher than average holding of customer accounts with deposits of more than US $250,000 guaranteed by the US government. If the regulators were not so quick to react, there would have been a risk of First Republic's customers making withdrawals and closing their bank accounts.
The sharp rise in interest rates also impacted First Republic as it also held higher than average mortgage accounts.
JP Morgan Chase had the best alternative
Investors then started to dump their shares and this is when the government and regulators came to the rescue. There was no other alternative as customers had already withdrawn US $100 billion during the month of March.
First Republic did not have systemic problems but failed because customers panicked. It's just not a good idea for a bank to have to liquidate everything over a weekend in order to meet the demands of their depositors" Betsey Stevenson, Professor of Economics – University of Michigan
JP Morgan Chase has taken on US $173 billion in loans, US $30 billion in securities and US $92 billion in deposits from First Republic. Business as usual this week and JP Morgan Chase hopes to be able to retain all of First Republic's customers. There are plans to expand the wealth management business.
The sale of First Republic Bank to JP Morgan is the best alternative. The risk environment no longer looks so bad but is it short-lived? Shares in JP Morgan gained 2.6 percent this week.
Related topics:
First Republic Bank in crisis – another casualty for US banking (aibc.world)
AIBC Insight: Impact of fintech on Commercial Real Estate
Abu Dhabi Securities Exchange welcomes first listing from UAE
Stop Press ! Find out more about AIBC Asia Summit