A Forbes report found that Binance transferred about $1.8 billion worth of stablecoin collateral to various hedge funds in 2022.
The beneficiaries included well-known names, Justin Sun, Cumberland, and Sam Bankman-Fried's Alameda Research. The co-authored report claimed that the transfer of assets was comparable to FTX manoeuvring before its eventual implosion.
An exchange spokesperson said there was no commingling of funds.
The sensational Forbes report shed light on a series of transfers made by the world's largest crypto exchange in 2022. Transfers involved over a billion dollars' worth of crypto assets which were supposed to back customer stablecoins. Forbes claimed the movement of funds was "eerily similar" to FTX's behaviour before it failed.
Binance transferred stablecoin collateral to Alameda Research
As gathered and synthesized by Forbes, the transfers began on Aug. 17 last year. Per the report, Binance distributed funds backing $1 billion worth of B-peg USDC, owned by users, to various hedge funds. No collateral was provided for the B-peg USD Coins until December 2022. The exchange had previously said that the B-peg coins it had issued were precisely backed 1:1, but the findings showed otherwise.
Of the $1.8 billion transferred out of the exchange's peg wallet without client consent, $1.1 billion were sent to Cumberland, a Chicago-based trading firm. Authors claimed that Cumberland might have aided Binance convert the collateral funds into its own stablecoin, BUSD, as part of its aggressive campaign to increase BUSD's market share. The report found that BUSD's market capitalisation surged, while USDC's share fell precipitously as the transfers took place.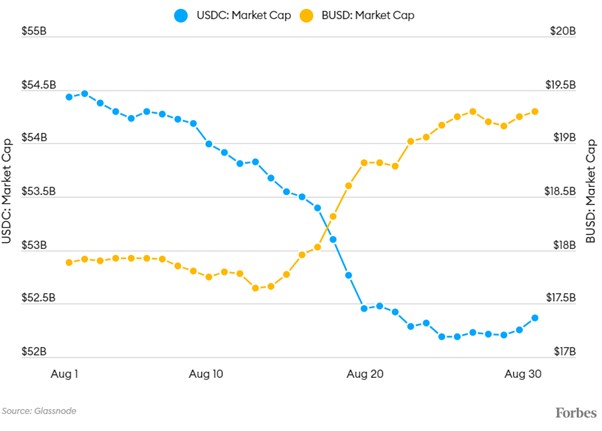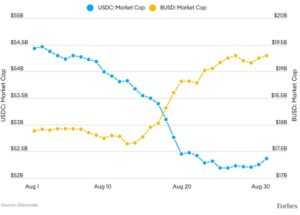 Assets moved from the peg wallet to Binance's cold wallet, then moved into the exchange's hot wallet. After seven days, these assets were returned to the peg wallet.
Additional fund beneficiaries included Tron founder Justin Sun, who received a sum of $138 million, and trading outfit Amber Group, which received $43 million. Notably, Sam Bankman-Fried's hedge fund also received $20 million from these funds.
Still, Chief Strategy Officer at Binance Patrick Hillmann, said "there was no commingling" of user funds. The CSO said the asset transfers were part of the exchange's daily business activities. He added that other ledgers kept track of all user funds owed to customers and tokens that were moved around between wallets.
CZ Binance also fired back at Forbes' claims, saying that the authors are "intentionally misconstruing facts".