On-chain data, trading volumes and Musk's words suggest nothing less but the moon for the meme-coin
You may hate it, you may love it, but no matter what, the probably most successful joke of the year is on the rise once again. While similar meme-coins quickly failed, Doge has gained unexpected respect, and has not yet died like memes normally do. Instead, new investors, who joined the wagon six months ago at max, hold 25% of the tokens in circulation. The Doge-team is now composed of approximately 32,000 active daily users, tendency rising.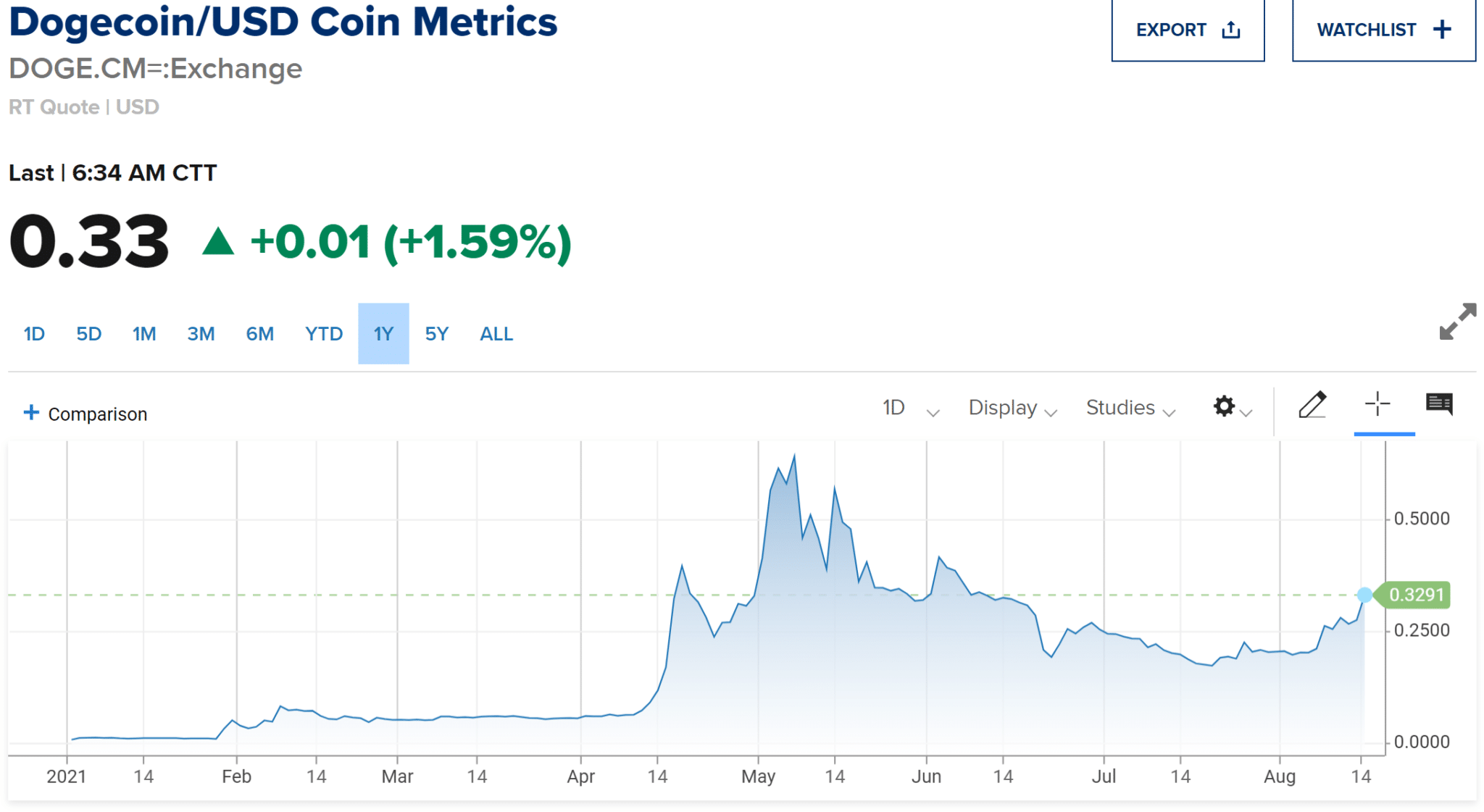 Since its low on July 20 at $0.159, it has marked an increase of 120%, however Doge-holders will know the volatility can turn around on them in an instance. The tip of the canine coin stats briefly stood at $0.722 on May 8, however the public polarization, that is exacerbated through the influence of certain meme-community influencers, has seen scepticism, criticism and at times hater comments online.
Shark Tank star Kevin O'Leary has publicly compared Dogecoin to gambling in Las Vegas. He sees no sustainable value in it as a currency. Much in contrast to the opinion of his co-star Mark Cuban, who praised it as the strongest cryptocurrency of all in his latest appearance on CNBC. Many people reacted, among them, Elon Musk. The self-proclaimed Dogefather and richest man on earth, made headlines in the early summer, for bending the graphs of Ethereum, Dogecoin and Bitcoin simply by posting on his Twitter account. He reaffirmed his support for Dogecoin and expressed his full agreement with Cuban. Following influencers like Cuban and Musk is well worthwhile, as their messages to the public can have significant effects on the market. Momentarily, they are in favour of Doge.
But mood swings of billionaires is not the indicator business experts are basing their optimistic projections on. Far more promising, is the enormous rise in trade volume. Over the past week, the 24-hour trading volume of Doge on Coinbase averaged $200 million a day. The surge in demand has raised the estimates of future pricing. By 2025, Doge is expected to reach $1.21. Meme or not, Doge seems to have proven itself as an established asset.
Source of graph: CNBC
Next up: Malta Week
Don't miss out on amazing networking opportunities and exclusive industry insights at Malta Week. Four leading shows will bring the best of the business back-to-back to a first-class meeting point. Malta Week will consist of SiGMA, AIBC, Med-Tech World and AGS, each presenting the top developments of their focal industries.
The cross-collaboration of each brand make Malta Week the number one destination for leading think-tanks of the gaming sector, emerging tech, digital health and digital marketing. The middle of the Mediterranean is the perfect place for multi-faceted business deals and face-to-face conversations with leading affiliates, policymakers and thought leaders.