The highly anticipated launch of the Creator League has hit an unexpected roadblock as organiser eFuse undergoes a restructuring process. Just days after renowned YouTube figure Mr. Beast made the initial announcement, this ambitious esports series has faced criticism and confusion, primarily centred around its utilisation of blockchain technology and allegations that it was, in essence, an NFT launch.
The unexpected halt of Creator League
From the outset, the Creator League raised eyebrows. While Mr. Beast unveiled it, he isn't directly involved in the project. Many of the influencers originally slated to participate aren't deeply immersed in gaming. Notable figures like Bella Poarch, a singer and social media sensation, CDawgVA, known for voice acting, podcasting, and streaming, and VinnieHacker, a TikTok star, were among those enlisted. While they occasionally dabbled in gaming, it wasn't their primary focus.
Interestingly, this unconventional mix appears to have been a deliberate choice. According to eFuse, these influencers and others were meant to inject "personality-driven content" into the Creator League, while figures like Hecz and Scump from Optic Gaming, Fortnite professional Clix, and Minecraft creator Sapnap were recruited to provide tested competitive expertise.
"Collectively, these creators boast a combined audience of over 226 million followers and have a long history of mobilising communities," eFuse said. "All creators will actively manage their teams and feature competitions on their live channels." That may be so, but as of right now the announcement video sits at 18K views on YouTube.
Simultaneously, eFuse made a commitment to engage fans who had invested in a $20 "community pass" linked to their preferred Creator League influencer. This pass not only offered an avenue for active participation in team management but also the enticing prospect of securing a spot on a team. Passholders were given the privilege of voting on team compositions and strategies, while also competing for cash prizes.
Additionally, for a limited period, a complimentary box of MrBeast's chocolate bars, known as "Feastables," was offered as an extra incentive.
The Creator League's hidden Blockchain connection
The turning point in the Creator League's trajectory arrived when it became apparent that the purchased passes operated on blockchain technology, the same foundation supporting NFTs. Strikingly, there was no initial mention of blockchain technology in the Creator League's announcement, nor did any of the pre-announcement materials hint at this aspect. Even on the Creator League website, which bears the intriguing name "mynt.gg" (hinting at NFT "minting"), there is no clear reference to blockchains or NFTs.
However, the revelation lay within the terms of service of Coinflow, the payment processor responsible for handling Creator League pass transactions. Buried within these terms was a statement declaring that the site served as an interface for "purchasing goods and services via blockchain merchants and NFT technology." This discovery prompted some pass buyers to voice their concerns, and it wasn't long before a few of the influencers associated with the Creator League started distancing themselves from the controversy.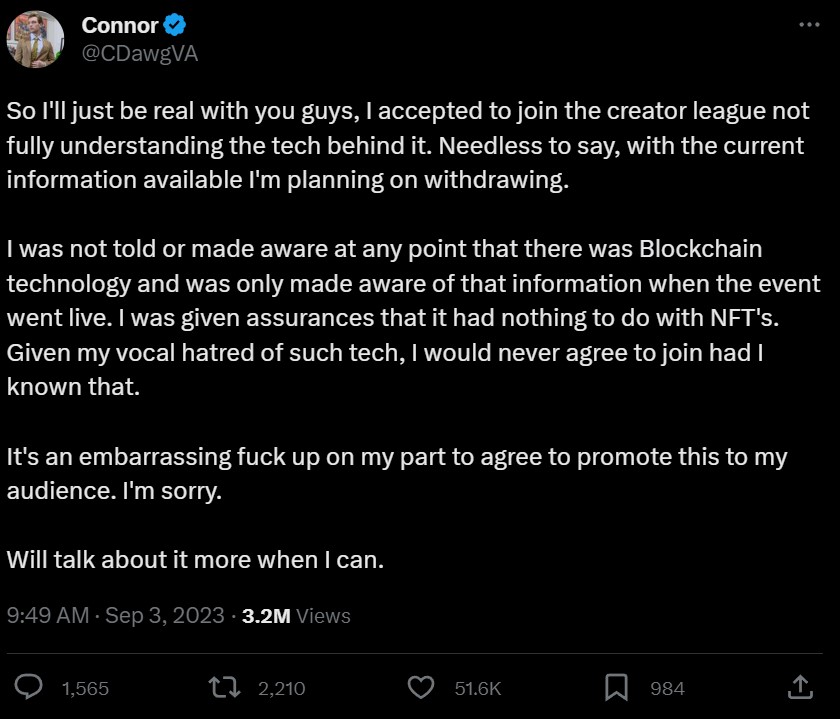 OTK co-founder Tips Out expressed similar views, although he didn't confirm an immediate departure.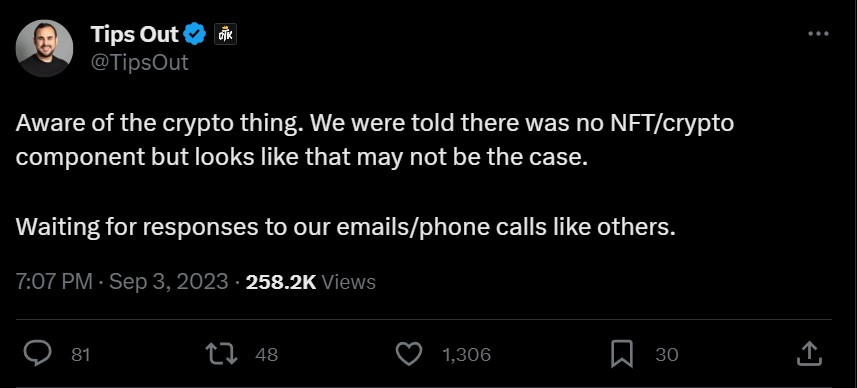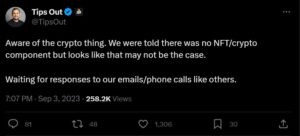 Postponements and Refunds
In a statement issued on September 5, merely three days after the Creator League's announcement, organiser eFuse acknowledged the use of blockchain technology for "validating data and recording community pass information." However, they clarified that no cryptocurrencies were involved, with all pass purchases conducted in US dollars. Furthermore, they stated that the passes themselves were not NFTs, lacking "transfer utility," and therefore could not be resold.
"Within the product, the blockchain provides additional transparency to inventory levels for what was designed to be a limited release," eFuse vice president of engineering Shawn Pavel said in a statement. "We apologise for not intentionally disclosing the blockchain's limited use within the Creator League purchasing process and have implemented practices to ensure that doesn't happen again. To be clear, the Creator League is not an NFT project and we have never sold non-fungible tokens."
Nevertheless, the repercussions were felt. eFuse disclosed the postponement of the Creator League's launch and extended refunds to pass buyers uncomfortable with blockchain technology. The organisation is presently undergoing a restructuring, resulting in the reported layoff of approximately 30 staff members.
The future of the Creator League remains uncertain. Curiously, sales of Creator League passes persisted for a full day following the league's postponement before eventually being suspended. Most of the influencers involved have refrained from public comment, and promotional materials for the Creator League on social media platforms like Twitter, YouTube, and Discord remain active. While the league assured pass holders that those who opt against refunds will be welcomed when the season commences, no indication of when that might occur has been provided.
eFuse also announced its intention to proceed with an open-to-all Fortnite tournament, initially designed as a pathway for competitors to secure team spots. However, the latest announcement did not mention the previously promised $50,000 prize pool, and sign-up details for this event are expected "in the coming weeks." The status of the free Feastables offer remains unknown at this time.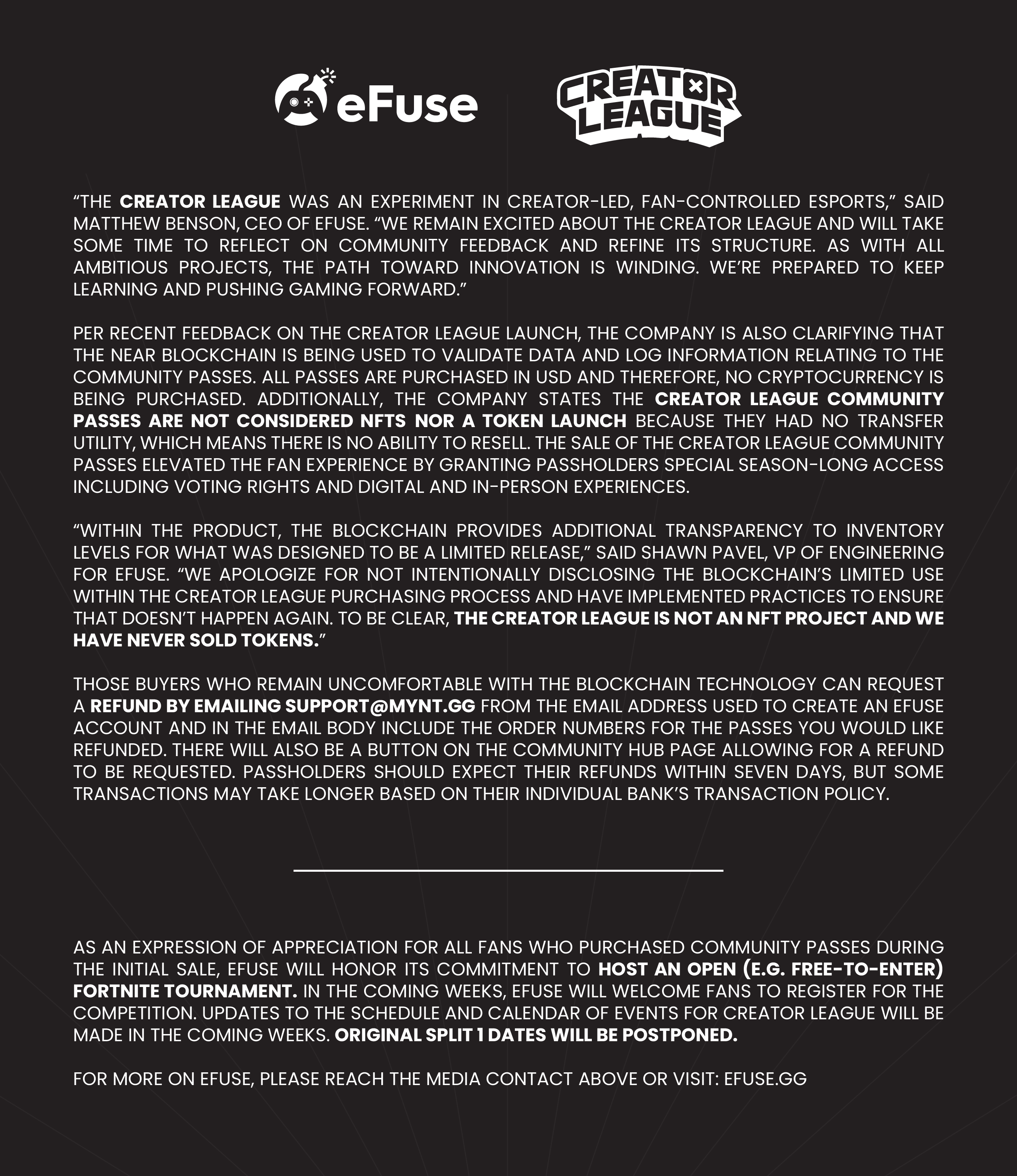 The latest tech trends, brought to you by AIBC
Did you enjoy this article? Get further insight into the rapidly-evolving world of emerging technology by visiting our news page. Also give our magazine a gander for feature articles with the storied likes of Darren Yan from FaZe Clan.