Following much discussion and deliberation, Australia and the United Kingdom will sign a historic free trade deal (FTD) that will go into force on 31 May.
The agreement will reduce tariffs on more than 99 percent of Australian exports to the United Kingdom.
It will also be simpler for Australians to live and work in the United Kingdom and British citizens to work in Australia.
First free trade deal post Brexit
The agreement with Australia is the UK's first free trade pact after leaving the European Union.
Tariff quotas would be scrapped in the next 10 years.
"Both countries are going to benefit. The opportunities that are going to open up to the two countries are very special for us. Australia is the first country with whom we negotiated this free trade agreement. Our first bottom up one since our departure from the EU. We launched the negotiations in June 2020 and we have concluded. Look at other FTAs that are still being negotiated after many years. It is record breaking on a number of fronts." Her Excellency Vicky Treadell, British High Commissioner to Australia
Cheaper Australian imports
Both countries have been concerned about increased competition and the free trade agreement will open up opportunities for suppliers and producers to enter other markets with their goods and services. Australian Prime Minister Anthony Albanese confirmed that it will come into effect in a matter of weeks when it is passed through both the Australian and British parliament.
He added that beef, sheep products, seafood and local Australian products will have easy access to the British market. As a result however, British farmers expressed some concern about the impact of cheaper Australian produce on their businesses.
Through this deal goods will become cheaper and more products will be available – it is good for every citizen in both countries.
Work opportunities open up
The deal will also reduce visa and work permit requirements between the two countries. From the UK side there is more legislation to sort out. For British people going to Australia, things have already started to change. Work opportunities have opened up in Australia for British talent. The age limit for working holiday visas has been raised from 30 years to 35 with a right to remain in the country for three years instead of two.
This has made it more attractive for younger people. The other visa change that has resulted from the FTA is that professionals such as architects, technical and software professionals, lawyers and doctors will have better career opportunities than just performing casual work.
Good news for tech industry
The agreement will make it easier for UK technology and telecoms service providers to do business in Australia. It will be the first time that Australia is opening its technology services sector at a state level. The FTD will facilitate the 'free flow of trusted data" and raise the standards for data protection. It will also recognise electronic contracts, electronic signatures and digital trust services. Government digital data will be shared when necessary. The two governments have agreed to "support innovation in their respective economies, including by fostering opportunities in innovation-intensive industries and encouraging trade in innovative goods and services".
Both countries will also mutually recognise professional qualifications.
UK this week
Although the pomp and pageantry in the UK this week cannot be matched anywhere else in the world, the Coronation was a reminder that the belief that we are not born equal still exists in 2023. The right to freedom of speech is also possibly questionable after Coronation protesters were arrested and released with no charges brought against them.
Times are changing in many ways and the barter negotiated by the new King and Queen to make a cameo appearance on "American Idol" in return for Lionel Ritchie and Katy Perry to perform at the Coronation Concert is not too different to Harry's arrangement with Netflix for the production of a docuseries.
With the fairy tale weekend now over, its back to business for the UK government to face the repercussions of the Conservative Party's wipe out at local elections last week. How long will it take before we see a coalition of the Labour and Liberal Parties to challenge the Conservatives?
British citizens are expecting tax cuts and lower inflation.
Leadership rumours are rife again after Penny Mordaunt's star performance with the sword, and she is being touted as the favourite to be the next leader of the Conservatives.
After one Prime Minister lasting seven weeks and Rishi Sunak in place now for six months, former Prime Minister Boris Johnson still has a chance to reclaim leadership. He is formidable and still electable.
A uncertain future for UK politics on the whole.
Budget day in Australia
It's budget day in Australia today.
Here's a quick guide to get you up to speed with what's happening and what to watch out for.
Australia's inflation rate has slowed down. With a surplus of AUD 4 billion these measures have already been announced.
Australians will get assistance with electricity rebates and medications. A childcare subsidy will be implemented for families on a income lower than $530,000. Care workers for the aged will received a 15 percent pay rise and a budget of AUD 747 million has been set aside to crack down on vaping and smoking. Transitioning to net zero from fossil fuels to renewable energy is high on the agenda.
Forex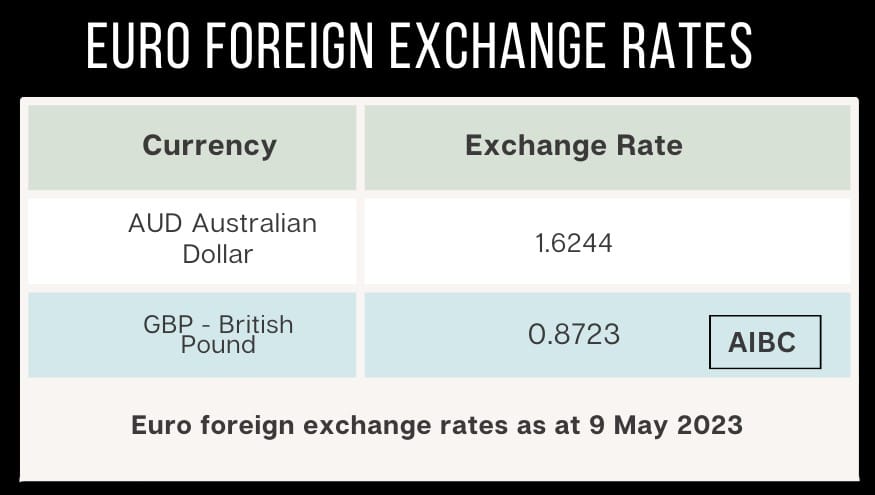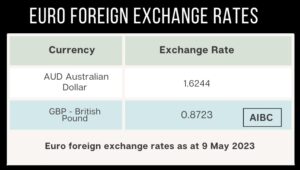 The British Pound to Euro exchange rate began the week trading above 1.14 and may seek to rise further in the days ahead. The Bank of England's (BoE) projection update and interest rate decision on Thursday are risks for Sterling. Last week the European Central Bank (ECB) interest rate and the apparent downturn in German economic data caused the currency to weaken significantly before close of trading on Friday. This caused the Pound to Euro rate to reach a new 2023 high of 1.1475.
The Euro to Australian Dollar reached a 2.5-year high in April. The Reserve Bank of Australia unexpectedly hiked the benchmark rate by 25 basis points, the AUD rallied on speculative short.
Related content:
Departure of Professor Hinton from Google
JP Morgan Chase absorbs First Republic Bank (aibc.world)
AIBC Insight: Impact of fintech on Commercial Real Estate