Mark Zuckerberg says Facebook sees Apple as one of its "biggest competitors"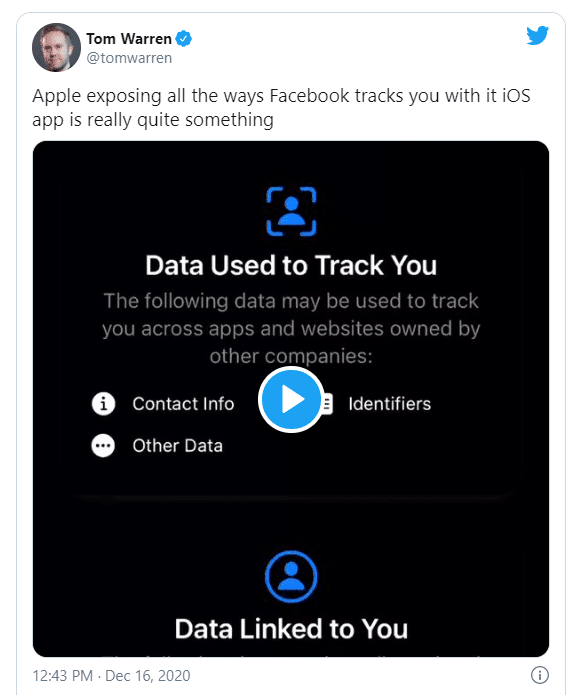 Apple CEO Tim Cook on Thursday, in a conference in Brussels, attacked social media with a clear reference to Facebook even though the app itself wasn't named.
Cook's appearance followed Apple's announcement that it will launch a controversial privacy feature giving users the ability to stop certain apps like Facebook to collect their personal info for advertisers.
"The end result of all of this is that you are no longer the customer," said Cook. "You are the product."
Cook points out that ethics and technology should go hand-in-hand "We believe that ethical technology is technology that works for you. It's technology that helps you sleep, not keeps you up. It tells you when you've had enough. It gives you space to create or draw or write or learn, not refresh just one more time."
Facebook CEO Mark Zuckerberg during the quarterly call earnings on Wednesday said that Apple is now one of Facebook's biggest competitors for the obvious reason that Apple's planned privacy settings collides with Facebook's collection of personal data for paid ads.
"We're standing up to Apple for small businesses everywhere."
Facebook went as far as to take full page ads in The New York Times and Wall Street Journal complaining that Apple's ability to block ad tracking would crush small businesses. In the ad, Facebook says: "Many in the small business community have shared concerns about Apple's forced software update, which will limit businesses' ability to run personalised ads and reach their customers effectively."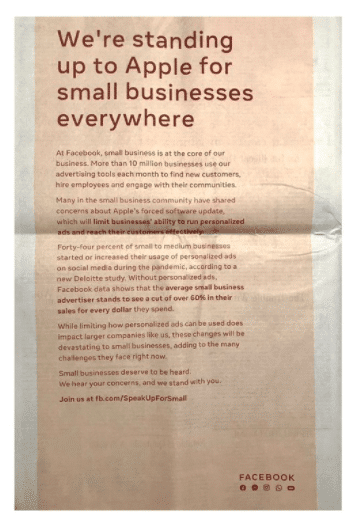 About Apple's privacy feature:
App Tracking Transperancy, Apple's feature targeting data tracking will come wih the next iOS 14, update. This feature is seen to potentially harm compannies who make money from targeted ads like Facebook. Apple says this will be launched in "early spring."
In a statement Apple said: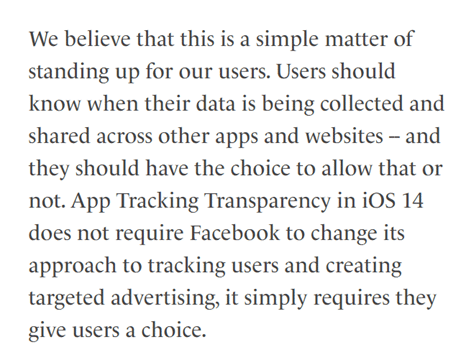 Two of the world's largest companies are on the way to collision:
Facebook is considering filing an antitrust lawsuit against Apple, The Information reported.
"We believe Apple is behaving anti-competitively by using their control of the App Store to benefit their bottom line at the expense of app developers and small businesses," the company said.
Decentralised platforms are thriving and people are feeding on the emerging trend of building services on the internet which do not depend on any single central organisation to function. This shows the possibility for decentalised platforms to grow across multiple platforms. Indeed, the upcoming AIBC summit will be held in tandem with the SiGMA expo – highlighting the crossover opportunity between gaming and tech with one supershow.
About AIBC:
AIBC Summit is a global expo covering topics relating to the global sectors for blockchain, AI, Big Data, IoT, and Quantum technologies. The event includes conferences hosted by globally renowned speakers, workshops for industry learning and discussion, an exhibition space accommodating more than 400 brands and a number of networking events.