Self-proclaimed "Dogefather" Elon Musk is bending crypto graphs like willows with his tweets, elevating Dogecoin as he hints at possible Tesla transactions

Following Tesla's withdrawal from Bitcoin announced over Twitter, Musk has given his next hint at a possible implementation of Dogecoin as the new crypto of choice for Tesla transaction, his newest post telling his followers he is working on system transaction efficiency. The dog-faced crypto shot up 22% as soon as it was widely viewed. This tweet came after a poll on the same platform on May 11, asking if Tesla should implement Dogecoin. Unsurprisingly, the meme-loving fan base voted "yes".
What happened so far

The poll that saw nearly 4 million voters cast their virtual ballot and caused an upwards spike of Dogecoin's price. Next day's tweet, Tesla were to withdraw form BTC transactions due to its tremendous carbon emissions, a partnership which had caused critics to call out the inconsistency of the eco-friendly vehicle enterprise for a while, sent the whole lot of established cryptos down the stairs. Read more on AIBC News.
The account of the richest man in the world seems worth following for speculators, as his tweets are single-handedly sculpting the prices of cryptos. Doge is currently profiting from the fall of Bitcoin, after being flung around the graphs like a rubber ball, correlating with Musk's messages to the public.
How people are reacting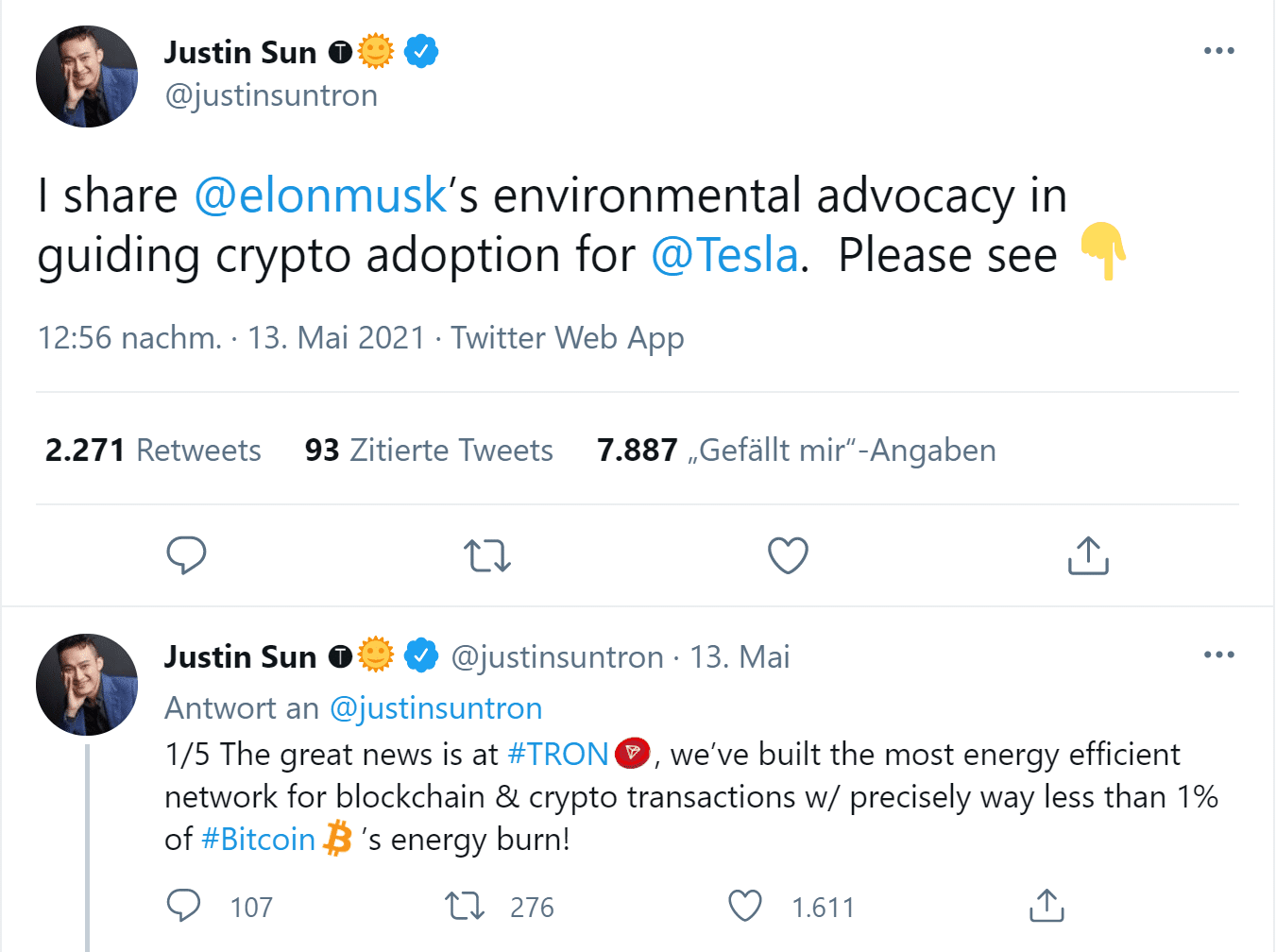 Some of the major names of crypto are also reaching out to Twitter, such as Justin Sun, founder of the high ranking crypto Tron and CEO of rainberry, who adresses Elon with a bid to consider Tron as an alternative. Elon Musk did not react yet, however the currently small carbon footprint would fit what Elon is looking for. Considering Musk's apparent bond with Dogecoin, it does have tough competition though.
Others seem to be stunned with sheer disbelief on how the crypto world is being dominated by sudden moves of a single man. Shorty after the poll was posted, Barry Silbert, founder and CEO of the Digital Currency Group, posted the following. It mirrors many of the reactions of Elon's followers, who are tweeting one word responses, such as a simple telling "Wut?"

What we can expect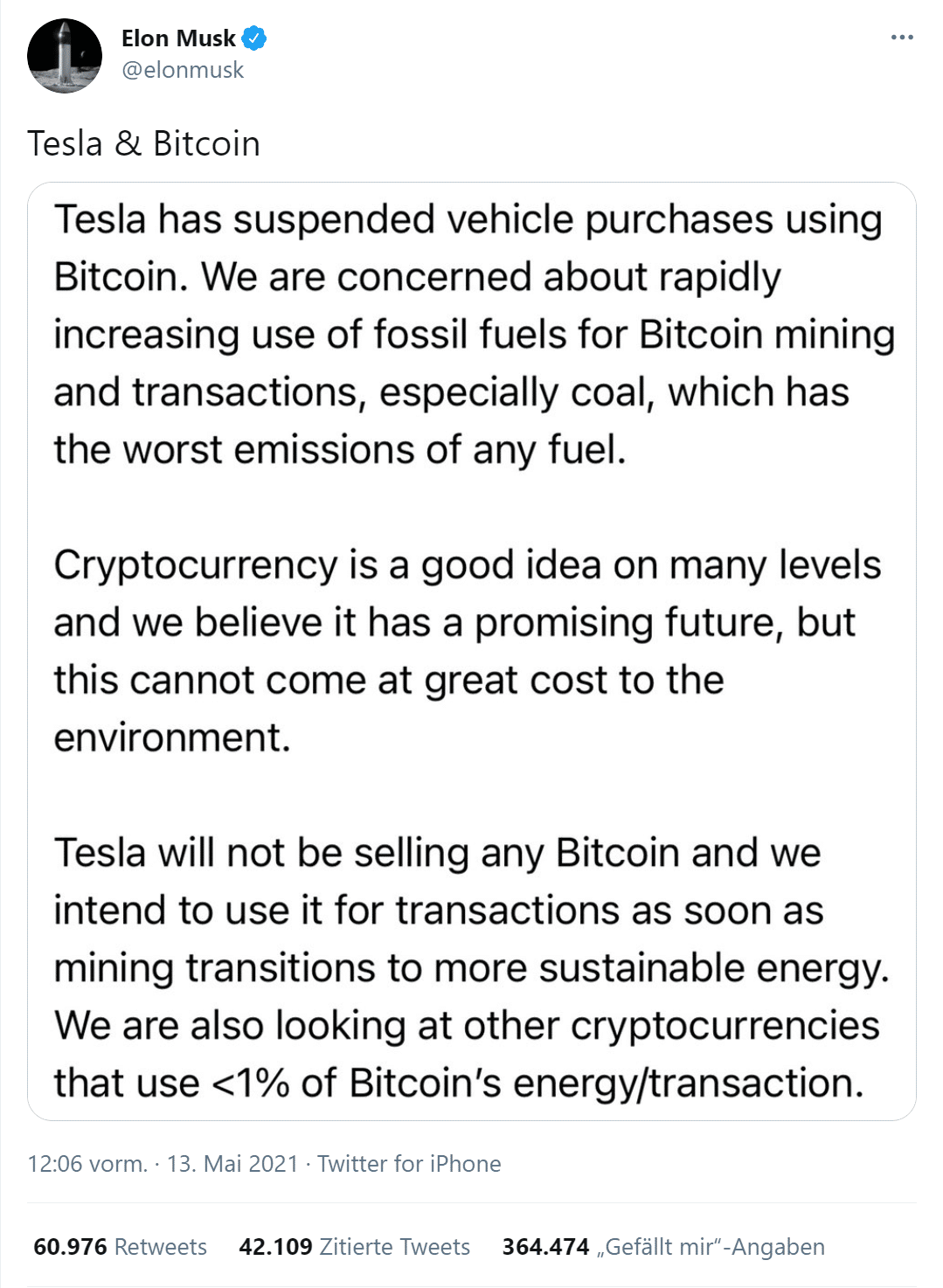 The tweet mentioned that Musk still believed in crypto and was looking for an alternative to Bitcoin that caused less than 1% of its carbon emissions. A criteria Dogecoin easily fits.
Additionally, Musk has proven to be one of the few in the business to successfully embrace meme-marketing. Wide spread jokes around Musk's appearance saw him linked to various themes of the meme universe, and instead of fighting the ridicule of his personality, he embraced it, building an unusual fan base which promotes the PayPal-fathers name at a constant level.
The "meme-lord" brand would fit nicely with the implementation of Dogecoin, as the Shiba-Inu based crypto was created based on a meme.
Ultimately, the worth is highly dependent on Musk's decision. A confirmation of Tesla to accept Dogecoin will likely sent it to Mars like a Falcon 9. However, the Falcon 9 was designed to make a return down to Earth. A reason for Dogecoin's low carbon emissions is the small user-base, not an internally green mining method. Bitcoin-like hype would therefore in the long run be likely to cause similar concerns, and Falcon 9 has had quite a few crashes recently.
AIBC Dubai:
AIBC UAE will take place on the 25th to 26th May, 2021, in the emirate of Dubai. The event will bring together key brands and individuals from the converging sectors of AI, blockchain, IoT, Quantum Tech to discuss and shape the future of emerging tech.
It is one of the leading events globally for blockchain, AI, crypto, and other emerging technologies, and gathers together an elite selection of delegates, policymakers and thought leaders from across the globe. Such international recognition has helped propel AIBC Summit become a favourite on the world circuit for emerging tech conferences and expos.