Following Liz Truss' recent election as UK prime minister, which she won with 57.4% of the vote over Rishi Sunak's 42.6%, the country will potentially take a non-regulatory stance toward digital assets.
When Truss was the Chief Secretary to the Treasury in 2018, she tweeted the following: "We should welcome cryptocurrencies in a way that doesn't constrain their potential. Liberate free enterprise areas by removing regulations that restrict prosperity."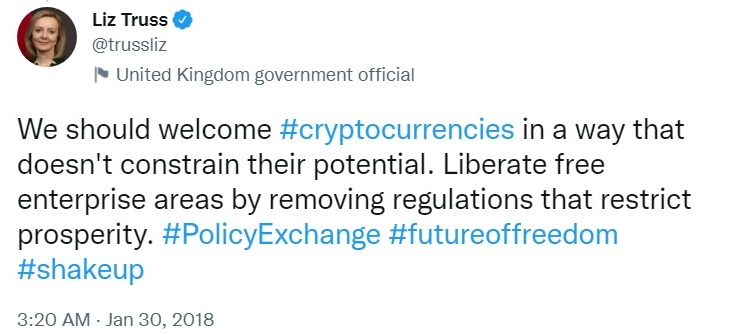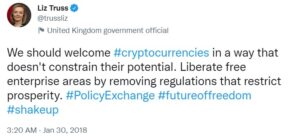 She also started a digital trade network in 2020 as the Secretary of State for International Trade, among other initiatives that support fintech companies.
Back then she stated, "we want to achieve a world-leading data and digital agreement, underwriting data flows but also dealing with issues like blockchain and artificial intelligence, thereby making sure that we and the US are leading the world and able to share these economic opportunities."
Sunak was unquestionably a favourite among many crypto fans. Together with John Glen, a former Economic Secretary of the Treasury, he sought to establish the UK as the global centre of the cryptocurrency industry. Stablecoins were regulated by Sunak in an effort to make them legal tender in the UK.
According to Scottish National Party MP and Chair of the Crypto and Digital Assets All Party Parliamentary Group (DAAPPG) Lisa Cameron, Fintech and cryptocurrency will play a key role in Liz Truss's administration as the future prime minister.
In an exclusive interview with AltFi Cameron went on to say that her feeling is very positive as "Truss is very much aware of how central fintech is to the UK and cities like London and Edinburgh, Truss will want to maximise the UK and its place in the world in terms of this sector's development."
The crypto community in numerous countries has embraced Truss' attitude that is friendly to cryptocurrency and if she follows through on her 2018 statement, her election as prime minister could come at a favourable time.
Currently, it is uncertain how her administration would approach significant challenges, like the UK's record inflation, and if it will prioritise building the digital asset sector.
Up Next: Malta Week 2022
After the successful completion of the AIBC Toronto and Dubai Summits, SiGMA Group is working diligently on this year's edition of Malta Week. From the 14th to the 18th of November, the company's most prominent brands will be brought together under one roof for the AIBC Europe Summit, the premier networking opportunity of the year. The Summit at MFCC Ta'Qali is a stellar expression of European innovation in the Gaming, Esports and Emerging Tech sectors, featuring numerous panels and conferences by leading experts. Interested in joining our long list of speakers, exhibitors or sponsors? Please contact Sophie to reserve your spot, or visit our website for more information.