Elon Musk has posted that Twitter would debut its revamped Verified program next Friday, with human authentication and different coloured check marks for different sorts of users.
Musk stated that all confirmed accounts will undergo manual authentication before the tick is activated. He tweeted "Gold check for companies, grey check for governments, blue for individuals (celebrities or not). Painful, but necessary."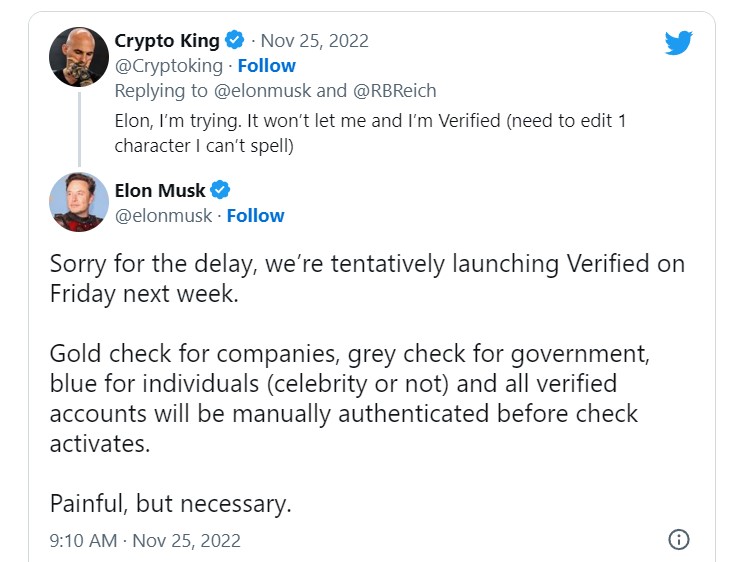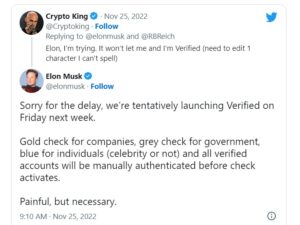 The choice to assign various colours to various accounts has been taken in order to address the issue of impersonation that surfaced after the verification program's initial rollout.
Faced with a rise in impersonating accounts, the social networking platform postponed the start of its recently announced $8 blue tick membership program but said that it would resume on November 29. A number of users who purchased the membership package posed as well-known figures to deceive people.
Musk added that people may have a second, very small logo to show that they are affiliated with a specific group. Additionally, that organisation must confirm that the person actually works for or is a representative of them. He continued by saying that it was decided to apply the blue checkmark to all individual accounts because a person's notoriety is a matter of opinion.
Elon Musk's most recent tweet changes the launch date of the revamped Verified programme from November 29 to December 2.