Lead investor Tetragon seeks to enforce Ripple to redeem Series C preferred stock
Tetragon, a lead investor in Ripple's Series C, has filed charges against blockchain payments firm Ripple. According to a report by Bloomberg, the investor is hoping to force Ripple to redeem Series C stock in what they have called their 'contractual right'.
The lawsuit, which was filed under seal on the 4th of January in Delaware Chancery court, comes in the wake of complaints by the US Securities and Exchange Commission (SEC) that investors were misled after $1billion unregistered virtual tokens were sold.
Tetragon has also filed a motion seeking to block Ripple from using any cash or other liquid assets until the company issues payment. The company has asked the court for a temporary restraining order, a preliminary injunction, and an expedited trial – briefs relating to these requests remain under seal.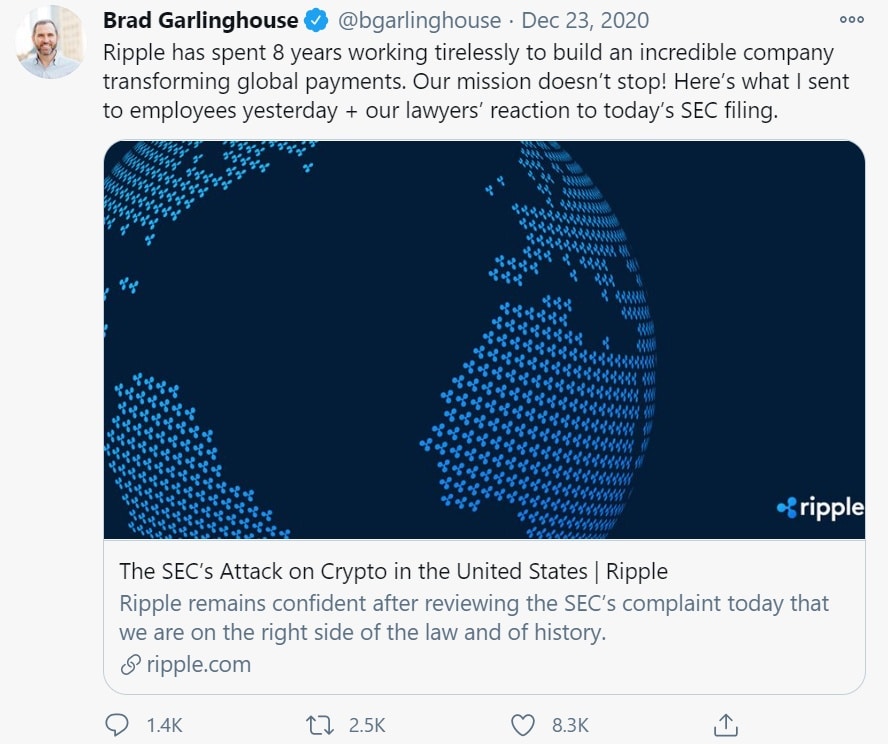 In a statement posted to Ripple's website where they said that they were 'confident that they were on the right side of history and of law, the payments company also said that: "In Ripple's Series C investment agreement, there is a provision that if XRP is deemed to be a security on a go forward basis, then Tetragon has the option of having Ripple redeem their equity. Since there has been no such determination, this lawsuit has no merit.
"We are disappointed that Tetragon is seeking to unfairly take advantage of the lack of regulatory clarity here in the US. The courts will provide this clarity and we are very confident in our position."
The XRP token is the world's third-largest cryptocurrency, and had been valued at $10 billion following the Tetragon led Series C round of funding which raised $200 million. In response to the SEC lawsuit, Coinbase Inc., the largest crypto exchange in the US pulled XRP from sale after allegations claiming the company knew the tokens qualified as securities and after becoming the target of a proposed class-action lawsuit seeking to recover commissions paid on XRP trades.
About AIBC:
AIBC Summit is a global expo covering topics relating to the global sectors for blockchain, AI, Big Data, IoT, and Quantum technologies. The event includes conferences hosted by globally renowned speakers, workshops for industry learning and discussion, an exhibition space accommodating more than 400 brands and a number of networking events.