Ransomware incidents increased by an astonishing 311% when compared on a year-on-year basis
Last year saw many companies adopt remote style working due to risks caused by the pandemic. Through this, hackers found new ways to penetrate companies.
Remote working has destroyed the safety barrier and this has resulted in a rise in cyber attacks especially in cryptocurrency transactions.
Furthermore, the rise in popularity and price of Bitcoin has also caused the cryptocurrency to be targeted by hackers.
According to a report by blockdata firm, Chainalysis, ransomware incidents skyrocketed by 311% when compared to 2019. The increase is mainly down to remote working and the safety barrier coming down.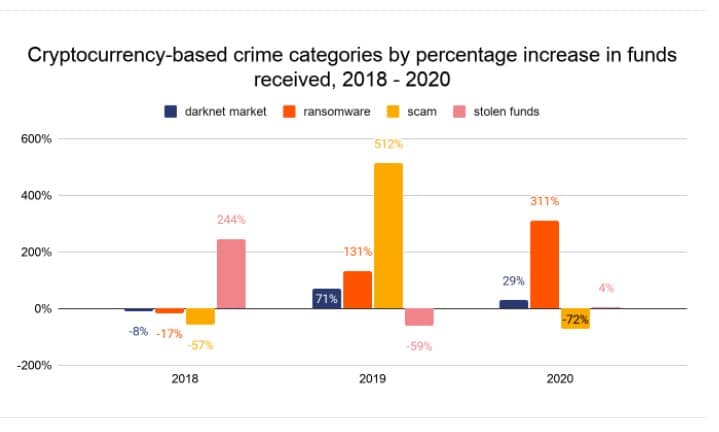 | | |
| --- | --- |
| Graph – Chainalysis report 2020 | |
What is a Ransomware attack?
Ransomware is a form of harmful software which is designed to obstruct or prevent a user from accessing a computer system or data until a ransom is paid, often demanded in bitcoin. Popular ways to infect a company is through phishing emails or by an employee visiting an unsafe website.
On the brighter side, the report published by Chainalysis states that illegal activity only made up 0.34% of cryptocurrency transactions which is down 2% from 2019.
This is an encouraging statistic as many people are wary of bitcoin due to its potential for misuse such as money laundering and terrorist financing. Criminals have looked to cryptocurrencies due to it being easy to send online instantly and its pseudonymous feature which can make it easy to track but authorities can not see who sent them.
According to the same report by Chainalysis, ransomware made up 7% of all crypto funds received by criminals. Even though it seems like a small amount, it was an increase of 311% when comparing year on year.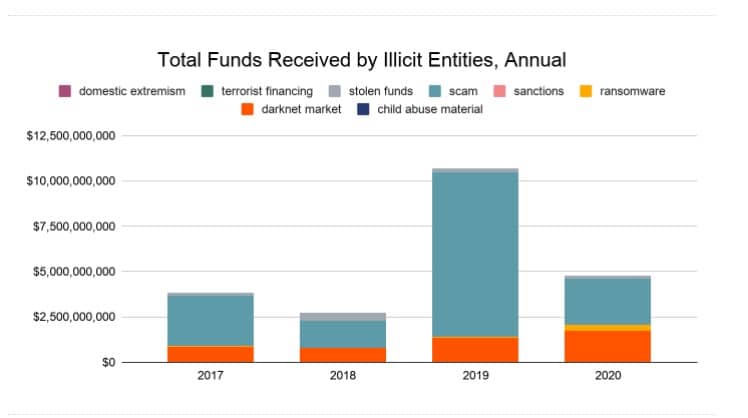 The dark net, which requires specific software and authorisation to access, also made the list coming in second as it accounted for $1.7billion worth of cryptocurrency activity. This amount is an increase of 30% year on year.
The year 2020 was a historic year for bitcoin as the cryptocurrency smashed through many barriers, including the $30,000 hurdle on its 12th anniversary and later the $40,000 barrier.
Bitcoin's popularity will continue to rise due to a number of financial institutions backing the cryptocurrency and it will be up to regulators worldwide to make sure that scams and illegal activity are mitigated as much as possible.
Watch the video below to understand the boom behind Bitcoin and how it works!
Latest Block publication out in March:
The Block is a bi-annual publication which illuminates the cutting-edge sectors of AI, blockchain, crypto and emerging tech, with a print run of 5000 delivered to leading brands across the global industry. If you wish to be featured in the upcoming issue, out in March 2021 please contact SiGMA's Head of Content Katy Micallef.