The state government of Pennsylvania has established a governing board specifically tasked with regulating artificial intelligence (AI).
Pennsylvania Governor, Josh Shapiro, has signed an executive order that sees a governing AI board inaugurated to to guide the state's use of generative AI along with developing training programmes to support state employees.
Board responsibilities
The board will be subject to several core values related to privacy, safety, fairness, accuracy and employee empowerment.
The leadership will consist of senior administration officials and experts in the AI field with meetings set to begin as early as next week.
The executive order was signed at the Carnegie Mellon University of Pittsburgh, a significant action as the university will collaborate with the AI governing body on the state's AI initiatives.
Future plans for AI
State officials have since placed an emphasis on AI usage being a supplement, not a replacement for human workers with the key aim of improving government services.
This point was stressed heavily in a statement given during the announcement:
"If we take the course that other states and countries have taken to completely ban AI for government purposes. we're going to seriously lose out on the opportunity presented to us to improve government services for Pennsylvanians."
Shapiro would continue:
"At the same time, know that AI will never replace the ingenuity, the creativity, and the lived experience of our outstanding workforce in the Commonwealth. A tool, no matter how sophisticated, accomplishes nothing without a hand to wield it."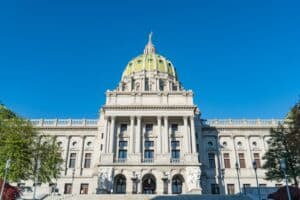 The executive order will also include the establishment of a two-year fellowship programme for post-bachelor, master's and doctoral candidates to work on AI issues with state agencies.
Regulatory plans
To support this new body, Pennsylvania is working on AI-related public safety and cybersecurity measures to protect consumers from potential AI security threats like fraud.
"This executive order is the product of months of careful consideration and planning around AI with a belief that we need to embrace AI, not fear it, but we need to deploy it responsibly."
The stance taken in Pennsylvania towards AI seems to be quite balanced and insightful, with many regulatory bodies and AI industry leaders having such a heavy dispute around how, why and the extent of AI regulation a balance may have been wells truck in the Keystone State.
Join us in Malta for AIBC Europe
Join us in Malta from the 13 – 17 November for 3 days of panel discussions, keynote speeches, workshops and casual networking events. Find all the details here.
Register here to secure your place at this landmark event.