Non-Fungible Token (NFT) wash trading volumes rose for the fourth consecutive month according to a fresh CoinGecko report
In total, wash trading volumes increased to $580 million, per the authors. NFT marketplaces
The total NFT wash trading volume increased to $580 million, as the CoinGecko report cited. NFT marketplaces X2Y2, LooksRare, and Blur recorded the largest NFT wash trading volumes in February.
NFT wash trading
Wash trading is an illegal activity where investors buy and sell their assets simultaneously for the same price. There are no financial returns, but the activity boosts market volumes which can in turn be used to mislead the market via artificial activity. NFT wash trading happens between two NFT holders who have pre-arranged terms on an NFT (or a bundle of NFTs).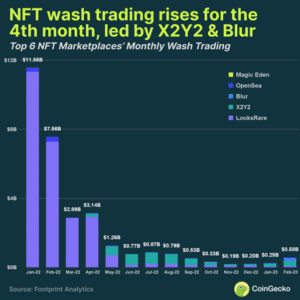 In February, wash trading volume was significant, reaching an aggregate of $580 million, a 126% increase from January's $250 million.
The last time wash trading activity decreased was in November 2022, when it fell to $190 million from October's $330 million (during the FTX meltdown when market participants ran for the exits). Since then, wash trading activity has been rising in tandem with NFT trading.
Regardless, NFT pairs appear to be small considering a year-on-year comparison, when volumes hit a high of $11,560 billion in January 2022.
Platforms
Among the six biggest marketplaces for NFTs, there were three major contributors in wash trading volumes, namely LooksRare, Blur, and X2Y2.
Almost half of these volumes were registered by X2Y2, which recorded $280 million in volumes – over 49% of the total amount for the month.
Similarly, Blur and LooksRare accounted for $150 million and $80 million, 27.7% and 15.1%, respectively. Meanwhile, OpenSea contributed $42.57 million, and Magic Eden added another $590,000 to the NFT wash trading activity in February.
The NFT market's rise
The crypto winter appeared to hit the NFT marketplace to a lesser extent during crypto winter. Barring the most recent meltdown in the US banking sector, the NFT market has been in recovery mode over the last few months. The recovery flies in the face of data showing that the market has returned to pre-Luna crash levels this February.
According to CoinGecko authors, the wash trading volume increase correlates with the general rise in the NFT marketplace. The last three months have been especially positive, with Blur proving to be one of the biggest contributors to these volumes.