Grand Theft Auto VI, the eagerly anticipated sequel to Grand Theft Auto V from 2013, had over 90 videos and photographs leaked online over the weekend in one of the largest game industry privacy breaches.
Rockstar Games appears to be the victim of a massive security breach, as a hacker reportedly stole at least 90 video clips from the company showing off an early build of Grand Theft Auto 6. A threat actor going by the handle "teapotuberhacker" released a link to a RAR archive containing the stolen clips, which is where the videos and source code was initially exposed.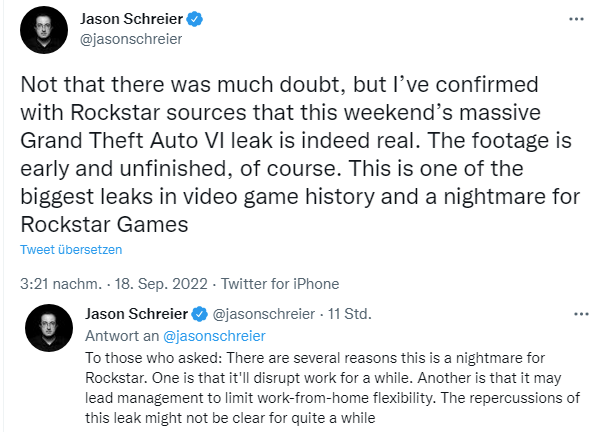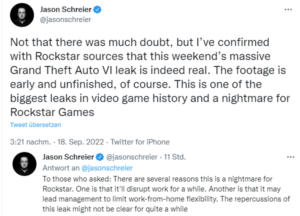 The threat actor claimed responsibility for the recent cyberattack on Uber after forum users expressed doubt that the hack was legitimate. As additional evidence, he released pictures of Grand Theft Auto V and Grand Theft Auto 6 source code.
Bloomberg's Jason Schreier tweeted "Not that there was much doubt, but I've confirmed with Rockstar sources that this weekend's massive Grand Theft Auto VI leak is indeed real. The footage is early and unfinished, of course. This is one of the biggest leaks in video game history and a nightmare for Rockstar Games."
The leaked videos are currently being shared to numerous online gaming communities, Reddit, YouTube, and Twitter. For the first time in the series, it will have a playable female heroine, and most of it will take place in a fictitious Miami, according to Bloomberg. The female character named Lucia is seen robbing a restaurant and holding hostages in one YouTube video. There is a tonne of placeholder text that makes it clear that the gameplay is still in the early stages, and you can see where the game engine is identifying items in the area.
According to Bloomberg, the upcoming Grand Theft Auto VI has been under development in some capacity since 2014. The game's existence was originally revealed by Take-Two in February, and the news immediately caused its share price to increase by 7%.
THE 300 SPARTANS:
After triumphing in key locations across Asia and Europe, AGS is flying 300 top affiliates to Malta, for an all-inclusive deluxe trip. The event will happen alongside SiGMA, 14-18th November, during SiGMA Europe.
Read more about the 300 Spartans here.