R
e
searchers have
developed
a
one-of-a-kind
skin patch that monitors cardiovascular signals and certain
biochemical levels in the human body
simultaneously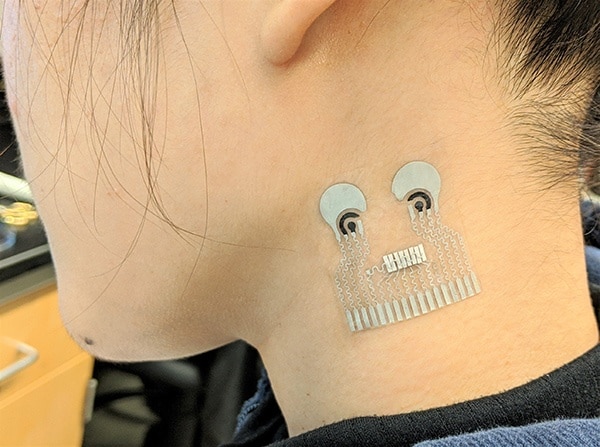 Engineers at the University of California San Diego have created a soft sheet of stretchy polymers that can be placed on the body to monitor three parameters all at once, namely: blood pressure, glucose, and either lactate, alcohol or caffeine. The study is incredibly significant to individuals with diabetes and high blood pressure who are particularly vulnerable to coronavirus.
The new patch is a by-product of the combined efforts of UC San Diego nanoengineering professor Sheng Xu, and the UC San Diego Center for Wearable Sensors, for which Joseph Wang, a professor of nanoengineering at UC San Diego and co-corresponding author of the study, serves as the director.
According to an article published by the researches in Nature Biomedical Engineering titled 'An epidermal patch for the simultaneous monitoring of haemodynamic and metabolic biomarkers', the project intertwines the concepts of "telehealth, the internet of medical things, and precision medicine, wearable sensors offer features to actively and remotely monitor physiological parameters".
The aim of the venture was to create an innovative health monitor that would serve its function while not interfering with daily activities or causing discomfort, according to Wang.
In an article titled 'New Skin Patch Brings Us Closer to Wearable, All-In-One Health Monitor' published on February 15, 2021 by the university's new centre, Lu Yin, a nanoengineering Ph.D. student at UC San Diego who works at Wang's lab and co-first author of the study, commented:
This type of wearable would be very helpful for people with underlying medical conditions to monitor their own health on a regular basis,
He also stressed the importance of such technology as we adopt to a more distanced way of living due to COVID-19:
It would also serve as a great tool for remote patient monitoring, especially during the COVID-19 pandemic when people are minimizing in-person visits to the clinic.
Moreover, aside from tweaking the product in bid to make it more compact and wireless, co-first author Muyang Lin, a nanoengineering Ph.D. student in Xu's lab, discussing the future implications of the study stating:
We want to make a complete system that is fully wearable,
Juliane Sempionatto, also an nanoengineering Ph.D. student in Wang's lab, shared her hope that the project would act as a catalyst for an all-in–one health monitor stating:
There are opportunities to monitor other biomarkers associated with various diseases. We are looking to add more clinical value to this device,
Source: UC San Diego News Centre
About AIBC:
AIBC Summit is a global expo covering topics relating to the global sectors for blockchain, AI, Big Data, IoT, and Quantum technologies. The event includes conferences hosted by globally renowned speakers, workshops for industry learning and discussion, an exhibition space accommodating more than 400 brands and a number of networking events.