Africa has impeccable potential in the emerging tech industry. Its growing tech sector is fuelled by a youthful, tech-savvy population, inspiring entrepreneurs to innovate their communities. To add, numerous developing African countries also stand to find the solution to many of their problems in Blockchain, Cryptocurrencies and Web3, among other tech.
The development and implementation of life-changing technology is never easy, especially on a continental scale. While several issues have and continue to arise, the adoption process is alive and well, as is the conversation on Africa's relationship with innovative tech.
The Crypto and Blockchain industries in Africa
Blockchain and Web3 technology are being increasingly recognized as having the potential to drive economic development and address challenges facing Africa, such as corruption and financial exclusion. For example, the use of blockchain-based financial products, like cryptocurrency wallets and peer-to-peer lending platforms, could help to increase financial inclusion by providing alternative ways for people in Africa to access and use financial services.
Additionally, blockchain technology can be used to create transparent and efficient supply chains, which could help to reduce waste and increase efficiency in industries such as agriculture and mining.
This is however, the idealistic view of Blockchain and Crypto in Africa. A question of trust surrounds the mass-scale incorporation of any new tech. Given the recent hardships and scandals suffered by Crypto, how much trust do African communities have for the software?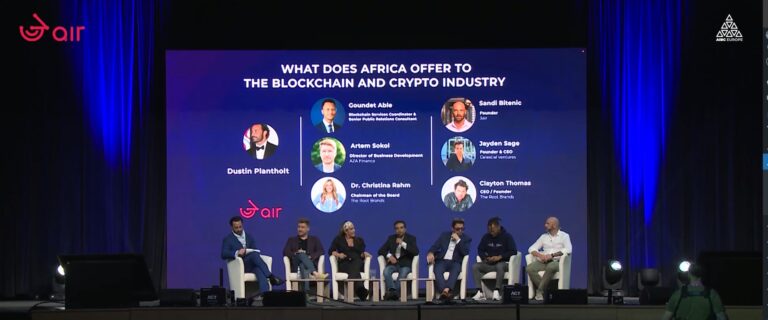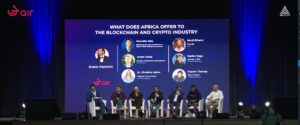 "There is a cultural consideration of trust when we come to it," remarked entrepreneur Clayton Thomas, Founder and CEO of The Root Brands, during a choice panel at the AIBC Europe Summit. "You have to create the connections between an entire continent, and that's not been done, despite the amount of diversification there is in Africa."
Considering what the continent has to offer to the emerging tech industries, 3Air Founder Sandi Bitenc called attention to the local populations. "It's not the diamonds or bananas that people tend to acquaint with Africa. The actual resource is the people. Africa boasts one of the few positive birth rates in the world, making the population younger and younger and more open to new technology."
Bitenc's observations ring true in terms of Web3 developers presently operating from Africa. Not only is education improving across Africa, but wages can be comparatively better for employers without underpaying their employees, due to a relatively low cost of living.
Web3 technologies, such as decentralized applications (dApps) and smart contracts, can also be built on top of blockchain platforms to create new, decentralized ways of interacting and conducting business online. These technologies have the potential to reduce reliance on traditional, centralized systems and allow for greater innovation and economic growth in Africa.
"Blockchain and Crypto need to find a way to tap into the intellectual brilliance of Africa's population," continued Jayden Sage, Founder and CEO of Celestial Ventures. "Africa will take its rightful place on the world stage through financial empowerment, rather than charitable endeavours."
Catch more insights on the topic in the video below!
Catch SiGMA Group's upcoming summit in Africa this January
Take part in our busiest year yet! In less than five days, SiGMA Group will be debuting their first sojourn into the African continent, happening at Nairobi, Kenya. We urge delegates eyeing this emerging market to buy their tickets now!