During the CEO's speech on banning US President Donald Trump from Twitter, Jack Dorsey took the opportunity to
declare his support for Bitcoin and its decentralised control
On a twitter thread, Dorsey elaborated on his decision to remove President Trump from the social media platform – Twitter, one that he clearly did not enjoy doing. Dorsey has been accused multiple times for having a leftist bias against Trump but said that the President of the US clearly had it coming after clear warnings about taking that type of drastic action. Jack Dorsey tweeted: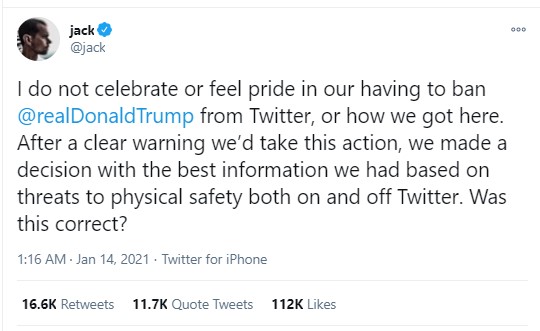 The CEO of Twitter felt that they were left with no option following the attack on the Capitol and believes that it was the correct decision taken by Twitter as they needed to focus their actions on public safety. Dorsey felt that real life harm due to online speech is becoming an issue and needs to be addressed as it is what drives their "policy and enforcement".
Having said that, Dorsey does feel that the removal of Trump from the platform was a one off and will not become a habit for Twitter and other social media platforms: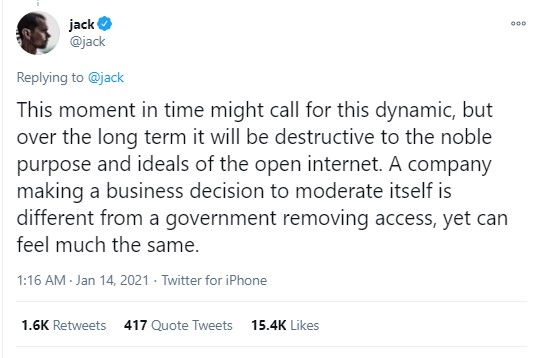 Moving away from the removal of Trump on Twitter, Jack Dorsey goes on to express his support and passion for Bitcoin. Bitcoin has smashed through several barriers over the course of a year by even exceeding the $40,000 mark on its 12th anniversary. The CEO of Twitter said: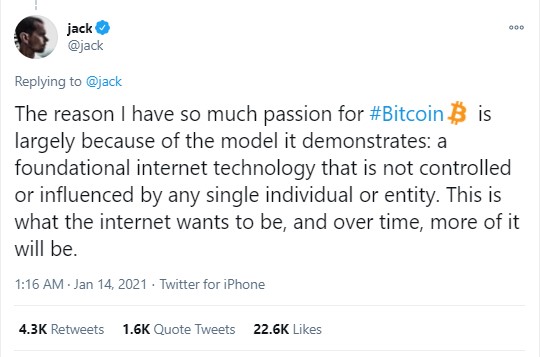 Having these types of influential people backing cryptocurrency may continue to push Bitcoin over certain barriers. The cryptocurrency has been under a number of attacks by doubters and major cooperations such as Google and China's obsession with quantum supremacy which has seen them both able to solve impossible mathematical calculations. Having said that, this has not stopped the cryptocurrency from recording multiple highs, and it can only get better with people like Jack Dorsey showing their support for Bitcoin.
Source: Blockchainnews
About AIBC:
AIBC Summit is a global expo covering topics relating to the global sectors for blockchain, AI, Big Data, IoT, and Quantum technologies. The event includes conferences hosted by globally renowned speakers, workshops for industry learning and discussion, an exhibition space accommodating more than 400 brands and a number of networking events.