The emergence of Bitcoin Ordinals has "reignited" the debate about the purpose of Bitcoin, emerging as one of the most "controversial topics" in blockchain today, according to crypto executives.
Bitcoin Ordinals, known by some as Bitcoin's version of NFTs, was launched in January 2023 by developer Casey Rodarmor. Ordinal Inscriptions, like NFTs, are digital assets inscribed on satoshis – a denomination of a Bitcoin (BTC).
Jonathon Miller, managing director of crypto exchange Kraken Australia explained that Bitcoin Ordinals "essentially allow" users to trade these satoshis on the Bitcoin blockchain, similar to how one would with a non-fungible-token (NFT).
As a result, users have the ability to "follow it" on the blockchain, which Miller believes is an "interesting experiment" as it represents the core of what crypto is.
User experience
However, Miller explains that, at the moment, dealing with Ordinals is "not a user-friendly experience."
To inscribe a Bitcoin Ordinal, you need to install open source software Bitcoin Core, create a wallet, install the "ord" client – which allows you to tracks and create inscriptions – before creating a commit and reveal transaction, through running the contents of FILE, that inscribes content onto the chain.
It's also harder to trade than an NFT, which users can easily exchange on popular platforms such as OpenSea and Rarible. Miller however believes Ordinals have the potential to be an "anchor point" for other experiments.
Clogging blockspace, worth it?
The creation of Ordinals have also raised concerns they could "spam the blockchain" and "blow out the block size," according to Miller.
Bitcoin trading platform BitMEX's research arm published a graph on Feb. 13 illustrating that Ordinals data "often" use over 50% of Bitcoin's block weight.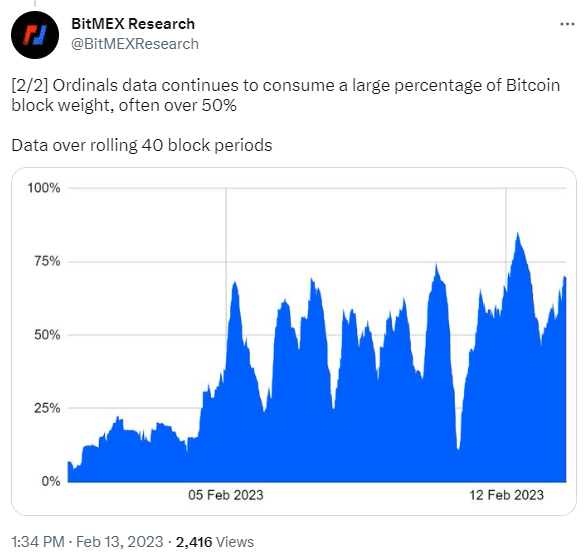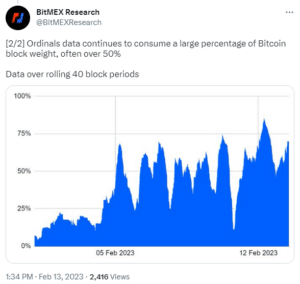 Huxley Peckham, head of training at the education facility Blockchain Academy International, told AIBC that there has been "resistance" from some members of the original Bitcoin community who are "against" NFTs.
He explained that the controversy surrounding Bitcoin Ordinals arises from the fact that inscriptions on satoshis "increase overall network usage."
Peckham warned that this could potentially "make the network congested," leading to increased transaction fees and slower transactions per second (TPS).
Despite this, Peckham suggested that Bitcoin Ordinals is the natural next step for Bitcoin to "become a store of value," by creating "some form" of media inscription into its base layer through "pictures, videos, and audio."
Kraken Australia's Miller however believes that "realistically," Bitcoin will continue to be used as a blockchain for transactions.
Purpose of Bitcoin
Meanwhile, Steve Vallas, managing director of industry body Blockchain APAC, told AIBC that Ordinals have "reignited" the debate about the purpose of Bitcoin.
He also believes that Ordinals will draw "attention" to Bitcoin, which will inadvertently open the door to developments that will strengthen Bitcoin's use case in the future.
He emphasized that blockchain networks "are as strong" as the communities, investment, and talent they attract.
Vallas also believes that the "bloat caused by Ordinals," can be contrasted with the increase in fees that "miners have received," as a result of Ordinals emergence.
Bitcoin Ordinals buck NFT trends
These insights come after a March 6 report from blockchain analytics firm Chainalysis revealed that despite NFT's activity slumping, Bitcoin Ordinals have seen an increase in activity.
The report revealed that March 1 saw the highest minting volume for Bitcoin Ordinals, with a varied group of files – 15,981 text files, 8,817 image files, 23 applications, two audio files, one model and one video.
Miller said he is excited to see where Ordinals will take Bitcoin, adding that Ordinals were intended to "create rarity on chain."