Jay Z and Jack Dorsey launch ₿trust for Bitcoin development in Africa and India
Two major influential people, Twitter CEO – Jack Dorsey and American superstar – JayZ announced that they are starting a new Bitcoin investment fund established by a foundation that undergoes consistent withdrawals from invest capitals, also known as endowment funds.
The money in these funds are often used by hospitals, the education industry and non-profit organisations.
The trust, backed by Dorsey and JayZ, will have 500 bitcoins invested in it, making the donation worth approximately $23.6million.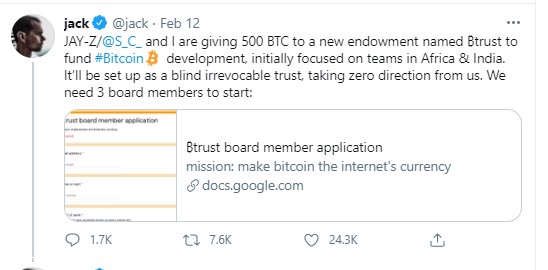 According to CrunTech, Dorsey announced that the fund will be a blind irrevocable trust, meaning that Dorsey and Jay-Z will not be giving any direction to the team.
Currently, ₿trust are searching for three board members to kickstart operations with the overall aim of the fund to ensure Bitcoin becomes the Internet's currency.
However, when looking at the current situation of cryptocurrency, specifically Bitcoin, in India and African countries like Nigeria, this new move may come at a risk.
In Nigeria, crypto exchanges traders are turning their attention to peer-to-peer exchanges after the Nigerian Apex Bank announced a sweeping ban on related accounts associated with cryptocurrency purchase and trading in the country.
Meanwhile, New Delhi has edged closer to banning private cryptocurrencies, including Bitcoin, through a new law all over India. Their intentions are to develop a national digital coin which will be issued by the Reserve Bank of India.
On the other hand, it's always good news when the crypto industry receives the backing of influential stars and if there are more partnerships assembled like Dorsey and JayZ's then it could push Bitcoin to another level.
About AIBC:
AIBC Summit is a global expo covering topics relating to the global sectors for blockchain, AI, Big Data, IoT, and Quantum technologies. The event includes conferences hosted by globally renowned speakers, workshops for industry learning and discussion, an exhibition space accommodating more than 400 brands and a number of networking events.