In a watershed moment, His Highness Al Maktoum issued the Dubai Virtual Asset Regulation Law. This provides an advanced legal framework for investors in the Blockchain space while creating international standards for VA industry governance
Proving the Blockchain world correct in perceiving Dubai as a global pillar of the DeFi industry and its place in the future economy, the legal regime, which will cover the entirety of the UAE including special development zones and free trade areas. The legislation also includes the founding of an agency outside of the Dubai International Financial Centre, the Dubai Virtual Asset Regulatory Authority (VARA). This entity will have both legal personality as well as a degree of financial autonomy while being linked to the Dubai World Trade Centre Authority (DWTCA).
The Ruler of Dubai Mohammed bin Rashin Al Maktoum himself elaborated that he sees Dubai cementing itself as a powerful player in the world stage when it comes to the proliferation of digital assets and their use as a tool for a more productive and efficient global economy.
"Approving the virtual asset law and establishing the Dubai Virtual Asset Regulatory Authority is a vital step that establishes the UAE's position in this sector, a step that aims to help the sector to grow and protect investors," he elaborated. "Dubai will provide the most advanced virtual asset ecosystem in terms of organization, governance and security."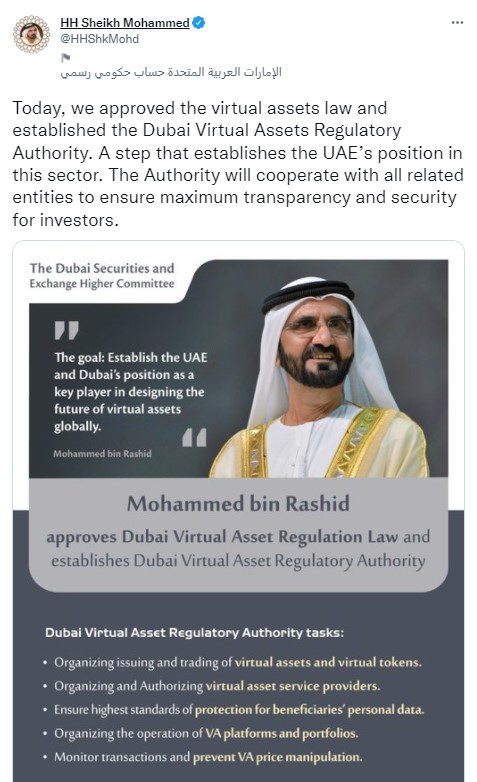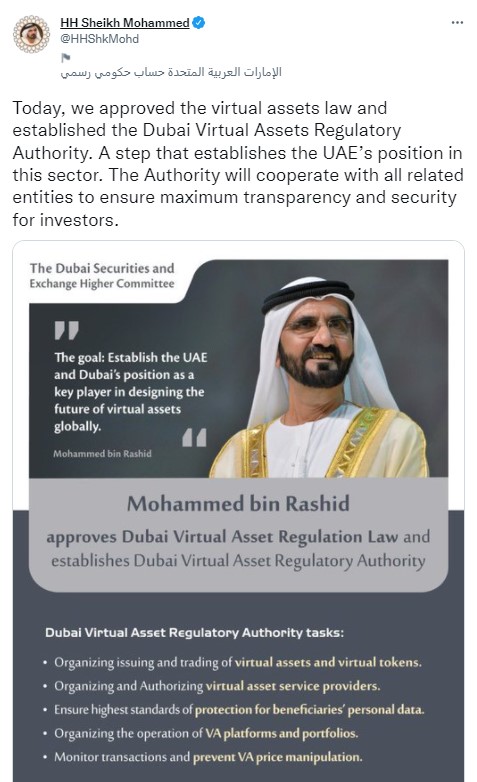 This position was further supported by statements from Helal Saeed Al Marri, Director-General of the DWTCA, who noted that this legislation will not only protect investors currently based in Dubai but will expand the city's presence by attracting even more specialists to the city. This would be due to the fact that, according to the new law, VARA authorization is necessary for any person in the Emirates to engage in activities pertaining to digital assets and that any person wishing to enter or continue in this field must establish a presence in Dubai to conduct Business.
Sourced from the Emirates News Agency.
AIBC returns to the United Arab Emirates:
Drawing the leading figures of the emerging tech world to the Middle Eastern metropoles for cutting edge technology, the 2022 AIBC UAE expo plans to unite a community of policy-makers, developers, C-suite executives, and legal experts of the burgeoning AI and Blockchain sectors. Through three days of educational panels, inspiring keynote speeches, workshops, and networking events, the expo seeks to create the foundation that the Industrial Revolution 4.0 can be built upon. Join us from the 20th to 23rd March 2022, in UAE.