Withdrawals have been blocked after hackers stole $28 million in Bitcoin, Ethereum, and USDC
Deribit, a leading cryptocurrency exchange, stopped accepting withdrawals after a hot wallet attack in which hackers made off with $28 million in stolen money.
The exchange's hot wallets for Bitcoin, Ethereum, and USDC were all impacted by the cyberattack however, the corporation has already stated that it will use its funds to immediately make up the losses.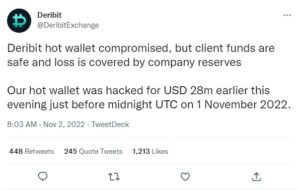 The trading platform claims that the cash of its customers is secure and adds that any losses have been paid by its own reserves, so the hacking incident won't have an impact on Deribit's insurance fund. "Deribit remains in a financially sound position and ongoing operations will not be impacted," said the company.
Deribit's chief commercial officer, Luuk Strijers, stated that customer funds have not been impacted but that withdrawals have been temporarily suspended while the exchange conducts security checks during an appearance on CoinDesk TV on Wednesday.
Additionally, the business has warned against making fresh deposits stating that deposits that have already been sent will still be processed and credited to accounts once the necessary amount of confirmations have been received.
"Hackers have gained access to our wallet server, which enabled them to initiate withdrawals from our hot wallet. We keep 99% of our assets in cold storage and only 1% in hot wallets. The hacker gained access to these hot wallets."
According to a representative, since the company's founding, Deribit had never been subject to such an attack or suffered such damages. Since investigations are still ongoing, more information concerning the hack should shortly be made public.
Join us: 14 – 18 November for Malta Week
One of the first European countries to regulate the gaming sector, Malta is a hub of global business. The island is an obvious choice for SiGMA's presence in Europe and a strong foundation for the field's future. With a plethora of prospects for both investors and entrepreneurs looking to shape the future of this multi-billion dollar business, Malta Week will bring together industry giants among the affiliates, operators, and suppliers of the gaming sector.