Nubank has just reported outstanding record revenues for Q1 2023.
During challenging times when banks struggle to deliver positive results, digital and fintech platform Nubank has become Brazil's remarkable success story of today. Nubank is positioned as the largest and fastest-growing fintech banking platform globally.
The bank posted a net income of US $142 million. Revenue has nearly doubled delivering US $1.6 billion.
Nubank continues to build on its growth and profitability trajectory, posting a net income of US $142 million. Revenue has nearly doubled year over year, reaching US $1.6 billion, We have an exceptional capital position and excess liquidity, operate a low-cost platform, and continue to increase our product portfolio and customer engagement", David Vélezm founder and CEO – Nubank
In the LatAm region, Nubank is the fifth largest bank and has been named as the biggest financial services innovator in Latin America. In Brazil 46 percent of the adult population is a Nubank customer and this figure is expected to double in the next two years.
Nubank is set to literally monopolise the banking sector in Brazil.
On an adjusted basis, the bank reported a net income of US $182.4 million, compared with US $10.1 million a year earlier.
Backed by Warren Buffett
It is universally known that legendary investor Warren Buffett invests in companies that are likely to appreciate substantially in price. His personalfortune exceeds US $100 billion according to Forbes. The "sage of Omaha' as he is known buys under-priced solid companies and holds them for the long term.
For example, 40 percent of his company, Berkshire Hathaway's portfolio consists of Apple shares. Buffett has significant exposure to Nubank signifying that good things are still to come for the Brazilian bank.
Buffett invested US $500 million in Nubank's parent company, Nu Pagamentos SA, before the company went public last year. In Q4 2022 US $1 billion of Nubank's Class A stock was purchased by Buffet's company after he sold billions' worth of stock in Mastercard and Visa.
Brazil and beyond
Performance and Growth: The low cost structure of the business model continues to contribute to the company's growth. With a customer base of 75.3 million, the company is expected to grow its market share in different verticals.
Revenues have reached US $1.5 billion in the first quarter.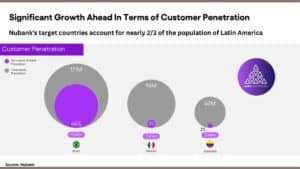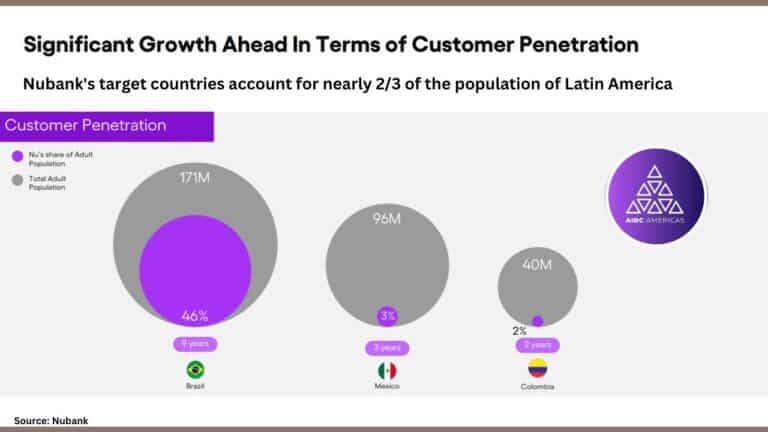 Net income climbed to $171 million with annualized ROE reaching 37 percent.
In Mexico, Nubank's customer base has grown by 52 percent YoY to 3.2 million. Only just after a week of its launch in Mexico, 500,000 new customers were added after an oversubscription in applications.
In Colombia, customers increased by 200 percent YOY to 635,000.
Nubank's expansion in both countries is expected to further accelerate over the next year mainly due to the introduction of new savings products.
Multi-Product Platform: Nubank will expand its portfolio with credit cards and other financial offerings. The insurance arm NuInvest reached over 9 million active customers.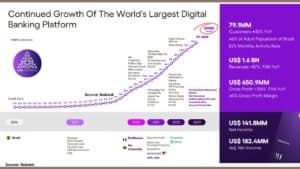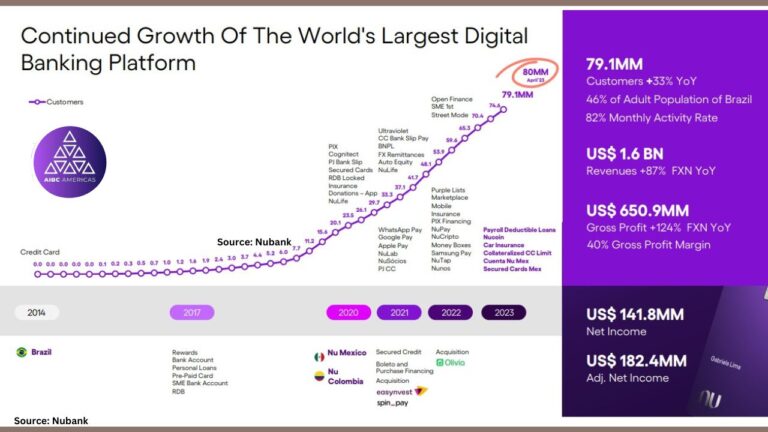 Nubank's accounts and personal loans amount to approximately over 80 million active customers, respectively. Insurance reached over 1 million active policies while NuInvest reached over 9 million active customers. Its digital asset arm, NuCripto, recorded more than 1.4 million customers since its rollout last year. The bank has a base of SME customers that has expanded by 69 percent YoY to 2.7 million.
Simply impressive Q1 financials
Customer growth: The digital bank benefited from steady growth in users and higher average revenue per customer. Nubank added 4.5 million customers year-on-year (YoY) during Quarter 1, thereby giving the bank a total of 79.1 million customers globally. This represents a 33 percent growth YoY.
Engagement and activity rates: Forex Neutral Basis (FXN) expanded by 30 percent YoY with the monthly Average Revenue per Active Customer (ARPAC) increasing to US $8.6. Nubank has become the primary banking relationship (PBA) platform for over 57 percent of active customers which resulted in record high revenues and delivered the ninth consecutive quarterly increase with an upturn in activity rate of just over 82 percent.
Low-cost operating platform: Nubank has managed to scale down costs delivering an above average efficiency ratio. The monthly average cost to serve every active customers remains below US $1 and is recorded at 80c per month. This means that the bank's operating leverage has reached an all time low at 39 percent positioning Nubank as one of the most efficient banks not only in the LatAm region but globally.
Asset Quality: Nubank's 15-90 non-performing loan (NPL) ratio reached 4.4 percent resulting in a downturn of 10 basis points lower than the historical trend. This indicator has increased by 80 basis points in the first quarter of previous years. There was an improvement in the personal loan portfolio with an increase in ratio by 5.5 percent in line with expectations. Overall Nubank continues to outperform the industry on a like-for-like basis, across different income bands.
Net and Adjusted Income: The bank posted a profit of US $141.8 million, compared to a US $45.1 loss in Q1 2022, delivering another quarter of recurring net income. Adjusted net income reached US $182.4 million compared US $10.1 million YoY.
In Brazil specifically, net income grew to US $171 million in the last quarter with an annualized return on equity (ROE) of 37 percent, one of the highest in the industry. Adjusted net income in Brazil grew to US $200 million, with an adjusted ROE of 43 percent.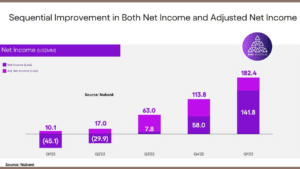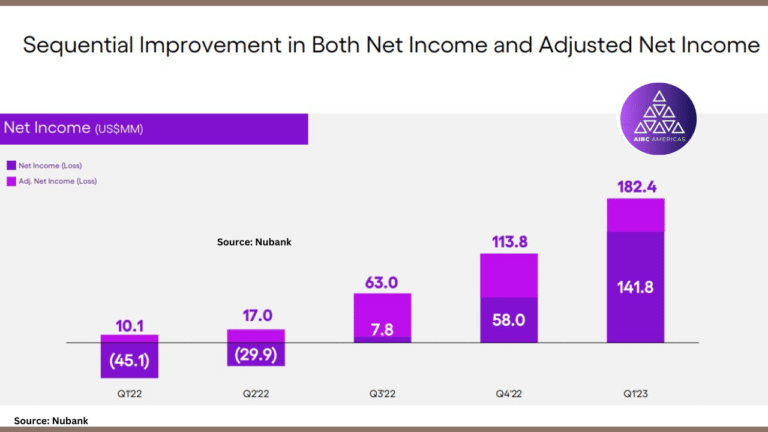 Revenue: Nubank posted US $1.6 billion in revenues, another unprecedented record high, which nearly doubles what the company posted in Q1 2022. This is a result of customer growth and higher levels of customer monetization in Brazil, which alone accounted for US $1.5 billion of the quarter's revenues.
Gross Profit: In Q1 2023 gross profit increased by 124 percent YOY to US $650.9 million. Gross profit margin reported an upturn of 40 percent from 34 percent for the same quarter YoY.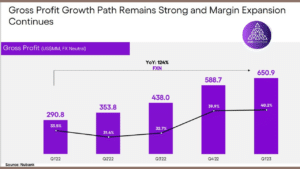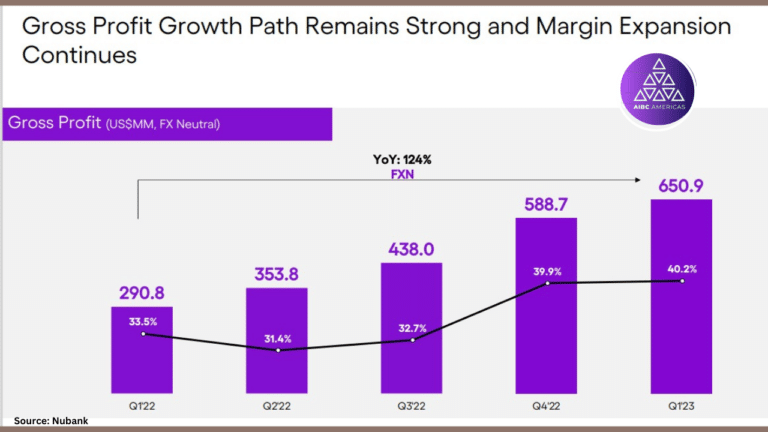 Capital: Nubank strengthened its position as one of the best-capitalized players in the region with a Basel Index in Brazil of 18.7 percent compared with the minimum of 10.5 percent, the minimum required for a bank to operate. Nu Holdings holds US $2.4 billion in excess cash.
Liquidity: Nubank has an interest-earning portfolio of US $5.2 billion, while total deposits stood at US $15.8 billion. The rise in the interest-earning portfolio reflects the ramp-up of personal loans and credit card receivables,
Share Price
U.S.-listed shares of Nubank have climbed 50 percent so far this year. Nu Holdings (NU) is trading at US $6.18 (+1.31 percent).
Equity Research Analysts are recommending the company as a good investment.
Background
Nu Holdings Ltd. is a holding company that engages in the provision of digital banking and fintech services. The company was founded by David Vélez Osorno, Cristina Helena Zingaretti Junqueira, and Adam Edward Wible in 2016. It is headquartered in George Town, Cayman Islands.
Founder and Chairman David Vélez founded Nu in 2013. He was senior partner at Sequoia Capital between January 2011 and March 2013, in charge of the firm's Latin American investments group. Before Sequoia, Vélez worked in investment banking and growth equity at Goldman Sachs, Morgan Stanley and General Atlantic. He holds a Bachelor's of Science Degree in Management Science and Engineering and a Master's in Business Administration, both from Stanford University.
Related topics:
Former advertising executive is Twitter's new CEO
AIBC Insight: Impact of fintech on Commercial Real Estate
Abu Dhabi Securities Exchange welcomes first listing from UAE