The ratio of Bitcoin's market capitalisation to the overall crypto market surged precipitously in March in the wake of a US banking crisis that will have spill-over effects all over the world.
The move coincides with an aggressive upswing in the price of Bitcoin, which has hit a 9-month high.
Bitcoin Hits $29,000 amidst banking chaos Bitcoin hit $29,000 this week, its highest level in nine months as the flagship cryptocurrency surged over 16% in 7 days. The cryptocurrency has since cooled off slightly, exchanging hands at $27,600 at press time.
The surge comes after chaotic events roiled the global banking system, sending banking stocks into a downward spiral. Specifically, the collapse of five major banks in the United States in a matter of ten days, and the subsequent intervention by US regulators, has left many wondering whether the fight against inflation is still on.
As emergency swap lines opened up, the crypto market experienced a market-wide rally, with major cryptocurrencies such as Bitcoin (30%), Litecoin (21%) and Ethereum (17%) surging double-digit percentage points in the last week. Of the cryptocurrencies, however, Bitcoin has taken the spotlight.
Analyst at Ark Invest, Yassine Elmandjra has argued that the rally is an indication of Bitcoin's value as a safe haven asset. As written in his newsletter, the analyst said that Bitcoin's recent price suggests the increasing regulatory scrutiny had little to no impact on the top cryptocurrency.
"In the face of the U.S. and European banking crises, bitcoin's price appreciation suggests that lax regulatory oversight had no impact on the decentralized, transparent, and auditable crypto asset ecosystem."
Elmandjra added: "Last weekend, when many banks were closed, and others were facing bank runs, bitcoin didn't skip a beat: it settled ~$33 billion, facilitated ~600k transactions, issued 2,037 new BTC at a steady and predictable ~1.8% inflation rate, attracted ~1 million new addresses, and generated $43 million for miners securing the network."
Bitcoin and Tether take the cake
Bitcoin dominance reached a nine-month high of 47% over the last few days, according to TradingView data. Bitcoin dominance (BTC.D) last hit this figure (48%) in June last year during the cataclysmic collapse of the Terra-Luna ecosystem.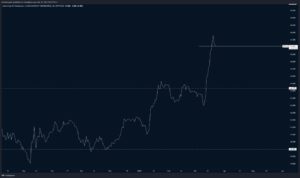 The bitcoin dominance chart, which includes aggregated stablecoin market capitalisation, is seen as an essential metric for traders and investors as it shows Bitcoin performance (in dollar terms) relative to other cryptocurrencies often dubbed as 'altcoins'. Some analysts say that increased Bitcoin dominance indicates a healthier crypto market as it shows that money isn't going towards highly speculative and often illiquid alternative projects like the ones that ended up going to zero in the 2022 fraud-ridden frenzy.
Explaining the metric in a tweet on Tuesday, FundStrat research noted: "A bitcoin dominance run is generally viewed as healthy for the crypto market, as it signals that froth in the market is relatively low (crypto traders are choosing to buy bitcoin over more speculative altcoins)."
The surge in dominance is also possibly linked to the recent de-pegging event of USDC following several banking-partner insolvencies (SVB). The second largest stablecoin (USDC) lost market share to the largest stablecoin (USDT) as the 'peg' broke on March 10th. USDC subsequently started distancing itself from Circle, the stablecoin issuer, after t revealed that it had a $3.3 billion hole in an account that was maintained by insolvent Silicon Valley Bank.
In other words, there wasn't enough money to go around for depositors looking to withdraw.
After the revelation, USDC found itself assaulted by a wave of redemption requests as concerns about reserves escalated, ultimately leading to the depegging event. On March 11th, USD price slid to an all-time low of around $0.877.
Still, the stablecoin regained its peg after regulators opened the liquidity taps for depositors, ensuring the failed bank, including SVB that they would be made whole again. The wave of insolvencies ultimately hit larger banks in Europe such as Credit Suisse. This week, Fed Chairman Jerome Powell raised interest rates 0.25%, which has led some analysts to accuse the Fed of 'breaking' the normal relationship between 'hiking rates' and 'tightening monetary policy'.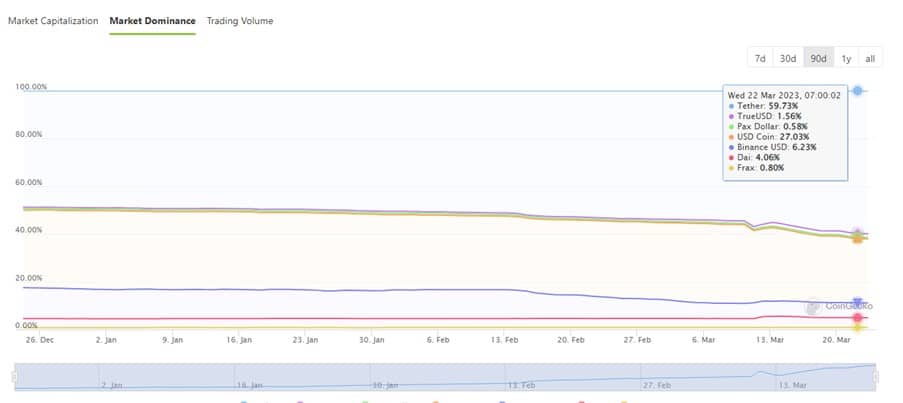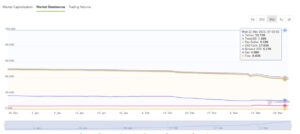 Regardless, the returned peg led to a $100 million increase in liquidity for crypto markets, but also increased USDT dominance to 60% of all stablecoin value as investors fled to Tether, per Coingecko data.
Notably, large players appear to be the market favourites, namely Tether, whose market capitalisation has soared to new highs to the tune of $78 billion, and Bitcoin, which has reached 47% market dominance amidst an ongoing financial market flux.
Bitcoin currently hovers around $27,600, up 1% on the day. The flagship crypto is up 14% over the last week and over 27% in the last two weeks.