The recent news surrounding Ager-Hanssen's departure from nChain has created quite a kerfuffle in the blockchain world.
A statement on nChain's website dated 29 September announced Ager-Hanssen's departure and confirmed the Board's appointment of Stefan Matthews, one of nChain's co-founders, as acting CEO. The following day, the company released another statement which mentioned that on "September 27 Mr. Ager Hanssen conducted himself in a serious and inappropriate manner which prompted the decision to dismiss Mr. Ager-Hanssen with immediate effect. This was communicated to Mr. Ager-Hanssen the same day."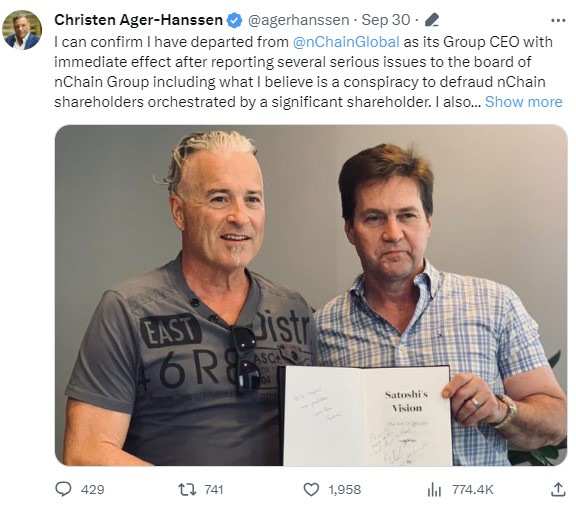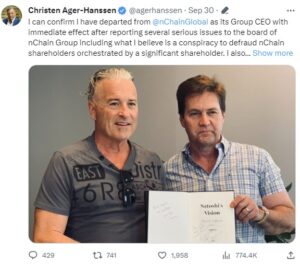 Ager-Hanssen published a tweet on the same day, giving his version of his departure. He claimed that he had reported several issues to the company Board including what he believed was "a conspiracy to defraud nChain shareholders orchestrated by a significant shareholder". Another claim he tweeted concerned damning evidence in his possession purported to show that Dr Craig Wright manipulated documents "to deceive the court he is Satoshi…… The board didn't take action and my job becomes clearly untenable." His tweet has garnered over 773K views and more than 400 replies.
In his comments on the current developments surrounding the explosive exit, Matthews said,
"nChain remains wholly focussed on sharing its expertise and technology internationally, to empower businesses and enterprises both large and small to benefit from the opportunities of the global economy. Having founded this company over 8 years ago, I can state with confidence that the current Board will not be detracted from our focus."
In a comment to SiGMA News, the company commented that Ager-Hanssen's departure "was unconnected to the receipt of a report from him, which is currently being considered by independent investigators."
Join us in Malta between the 13 – 17 November for AIBC Europe 2023
With Malta being amongst the first states to regulate cryptocurrencies and DLT, the island has always strived to be amongst the first to innovate when it comes to emerging technology.
With the new regulations being premiered first and foremost at AIBC Europe, Malta aims to be a pillar in the technological development of the region by uniting tech-leaders, regulators, investors and entrepreneurs from across the world to discuss, share ideas, make partnerships and build the foundation for the industry of tomorrow.
Join our delegates at MMH Malta for 3 days of panel discussions, keynote speeches, workshops and casual networking events that set the stage for the economy to come.
Find all the details here.