According to a rule added to Valve's "What you shouldn't publish on Steam" list all blockchain-based games and NFTs have been formally prohibited on Steam
All blockchain-based games and NFTs have been prohibited on Steam by Valve. In a report by The Verge, a new restriction has been added to Valve's list of things developers can't post on Steam.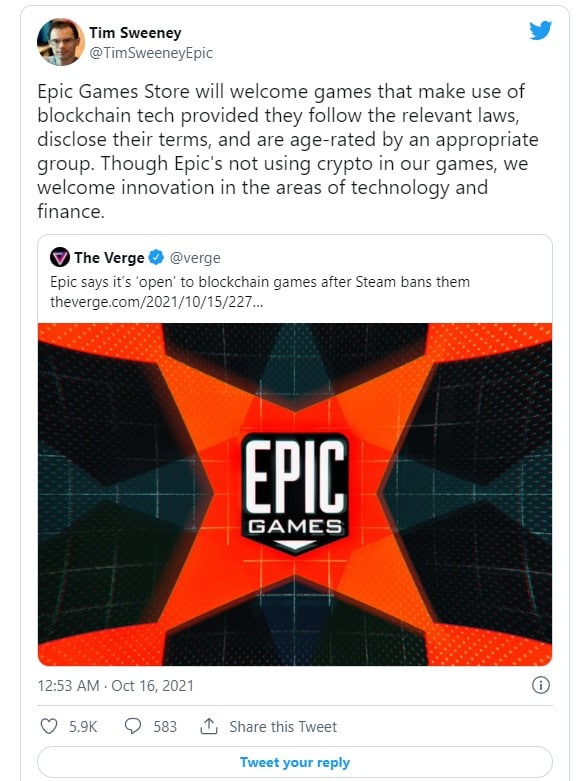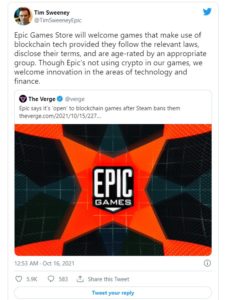 Valve Software, the firm behind Steam, located in Bellevue, Wash., discreetly revised its content standards and guidelines for studio partners in the previous several months. Programs "built on blockchain technology that issue or allow the exchange of cryptocurrencies or NFTs" are no longer allowed on the video game shop, according to the guideline.
Valve appears to have attempted to go under the industry's radar with its new policy. It hasn't made any public announcements about the move, and some of its onboarding paperwork for new publishing partners still doesn't mention it, according to the Verge.
Age of Rust, a blockchain game, will no longer be accessible on Steam, according to the game's developer. The blockchain game operator stated that they chose to be upfront about blockchain gaming & NFTs. "As a result, we finally lost the battle with Steam. While I'm disappointed [about] Age of Rust being removed, the point is more to the fact that blockchain games as [a] whole are going to be removed. This is [a] setback for all."
The official Age of Rust account emphasised "Steam's point of view is that items have value and they don't allow items that can have real-world value on their platform,
"While I respect their choice, I fundamentally believe that NFTs and blockchain games are the future. It's why I started this journey with all of you."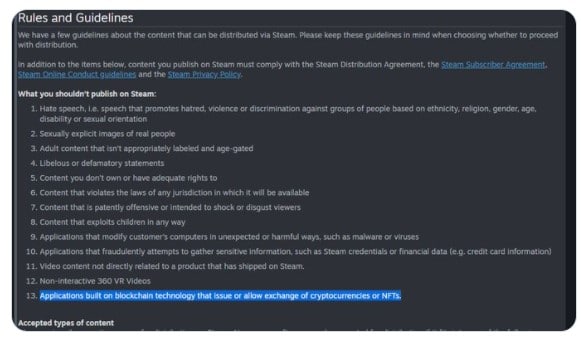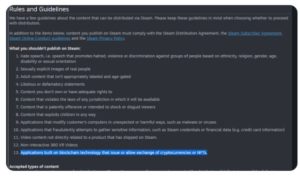 The decision to prohibit these notions comes at a time when the value and popularity of blockchain gaming and the NFT sector have skyrocketed. According to dappradar.com data, the blockchain game Axie Infinity has been extremely successful, with total NFT sales of $2.59 billion.
Epic Games joined in on the topic following the announcement, saying that, unlike Steam, it welcomed the new innovation. While the business has opted to stay away from NFTs and cryptocurrency, CEO Tim Sweeney stated on Twitter that the store "will welcome games that make use of blockchain tech provided they follow the relevant laws, discloser their terms, and are age-rated by an appropriate group."
While a shift in regulation might hurt firms like Sky Mavis' chances of gaining traction, its owners aren't at the hands of publishers or app stores.
Next up: Malta Week
Don't miss out on amazing networking opportunities and exclusive industry insights at Malta Week. Four leading shows will bring the best of the business back-to-back to a first-class meeting point. Malta Week will consist of SiGMA, AIBC, Med-Tech World and AGS, each presenting the top developments of their focal industries.
The cross-collaboration of each brand makes Malta Week the number one destination for leading think-tanks of the gaming sector, emerging tech, digital health, and digital marketing. The middle of the Mediterranean is the perfect place for multi-faceted business deals and face-to-face conversations with leading affiliates, policymakers, and thought leaders.