Having experienced tremendous growth over the last 18 months, esports betting is taking a bigger and bigger share of the gambling revenue pie
With this increased footprint comes greater consideration of both esports' standalone potential as well as more dynamic cross-sell opportunities – be it sports betting, fantasy or indeed online casino.
If you want to get in touch with the author, contact Alex Higerty, Sales Manager at PandaScore.
Betting cultures already exist in esports
Betting cultures are already developing around esports and gaming, particularly around popular First-Person-Shooter Counter-Strike: Global Offensive, or CS:GO for short. In-game cosmetics – skins – have developed concrete monetary value, and a CS:GO skin economy has flourished for over 8 years.
Developing parallel to this economy has been the skin betting scene, which blew up around 2015-16 through dedicated skin betting sites that ran their own 'skin case' verticals. Players could put forward the currency value of skins on their account as bets on the cosmetics that would come out of a randomised 'case' opening. In effect, a skin-based slot machine.
Licensed casino operators offer a regulated, safer alternative to the Wild West of unregulated skin betting in the mid-2010s. Several casino operators have already recognised this precedent and have been engaging heavily with esports and gaming content, notably through Twitch and Youtube.
The rise of Slots streams
6 months ago, the 'Slots' category on streaming platform Twitch was sitting at #21 in the most-watched list, with the main streamer, Ishmael 'Roshtein' Swartz' carrying the most weight in terms of viewer numbers, with an average concurrent viewership of just over 24,000.
Until recently when online crypto casino Stake began to partner with streamer Tyler 'Trainwreckstv' Niknam to play their games to his vast following beginning around the start of May. This brought with it a significant increase in viewership and an increased interest in casino games, specifically slots on crypto casinos.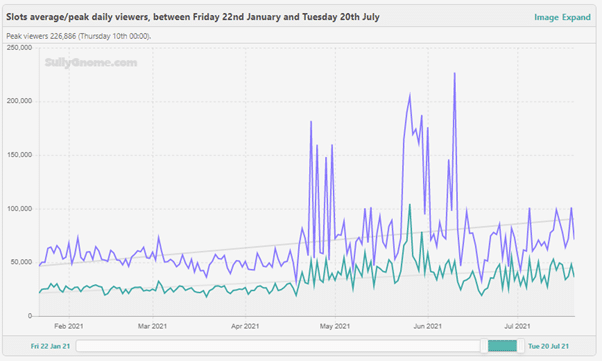 A number of big streamers have been dipping in and out of casino content for a while now but the hype around crypto and casinos has brought a lot of them to streaming in the slots category together almost daily.
Currently the Slots category hovers around 14th place in the Twitch viewership charts, overtaking games such as MMO colossus World of Warcraft and Blizzard's card game Hearthstone. It has doubled its average viewership in the past 30 days and it's clear that there is a real audience out there that loves watching high stakes being played and big money being won. This kind of content and engagement is driving a lot of viewers to try the games out for themselves.
Twitch Channel Points Betting
In November 2020, Twitch introduced a feature to its users and viewers which allowed the stream to set a Yes/No outcome of an event happening on their stream. This is the first time we've seen Twitch implement a betting system onto their platform.
Viewers accrue channel points by watching the stream, which they can then stake on an outcome set by the streamer. This could be a simple win or loss bet, or something specific to the game they're playing.
Considering channel points are ultimately free, they can be redeemed to unlock emotes and certain cosmetics or benefits on the channel of the streamer they are watching. Viewers regularly engage with the streamer and others in the channel based on these points bets, driving conversations and memes among the streamer's community.
From a casino operator's perspective, Twitch's points betting system is valuable in that it's a great way to introduce viewers to the basic practices and principles of betting.
A regulated ecosystem
Much like crypto, skins are a digital asset with a monetary value behind it and the skin casino arena has been around since skins were introduced to CS:GO back in 2013. Skin gambling has moved beyond the Wild West of the mid 2010s to more legitimate and above-board operations. Regulators such as the UK Gambling Commission have actively worked with game publisher Valve to ensure a safer CS:GO skin ecosystem.
Around 2017 the CS:GO skin ecosystem had an estimated market size of more than $830 million after much needed regulations and controls were put in place – it's safe to say that skin gambling is a global trend that's here to stay.
Reputable operators have already been taking concrete steps to create safer, more legitimate options for punters – they have gambling licences, robust KYC checks and provably fair odds. Trailblazers in this space are already seeing the dividends of adding esports betting to their casino offering.
CS:GOEmpire launched esports betting across 9 different games earlier this year and have seen some great success in customer crossing over to match betting. Since March 2020 CS:GO Empires total monthly esports betting turnover has risen by more than 350%.
It's not rocket science to see that there are similar opportunities in the crypto casino space, especially when customers are coming over from Twitch where video gaming and esports takes up the majority chunk of what is viewed on the platform.
It's time to act
There are lots of bookmakers already offering esports betting, but with a new wave of slots viewers coming in from Twitch and flocking to crypto casinos in particular, now is the time to cater to their esports interests as well. Doing so through legitimate, regulated channels with proper gambling licences, KYC checks and provably fair odds offers a new revenue stream with long term dividends.
The opportunity for casinos – especially crypto casinos – to capitalize on esports betting and get in early has never been better.
If you want to get in touch with the author, contact Alex Higerty, Sales Manager at PandaScore.