In the midst of Crypto Winter, the bridging together of Blockchain technology and the legacy digital ecosystem continues unabated with Binance partnering with none other than Cristiano Ronaldo to promote NFTs.
NFT's soccer stars: Cristiano Ronaldo leads the pack
In terms of the deal itself, the Portuguese football star will be working with Binance through a multi-year agreement to create a number of NFT collections for sale via the exchange's platform with the first collection being set to debut later this year.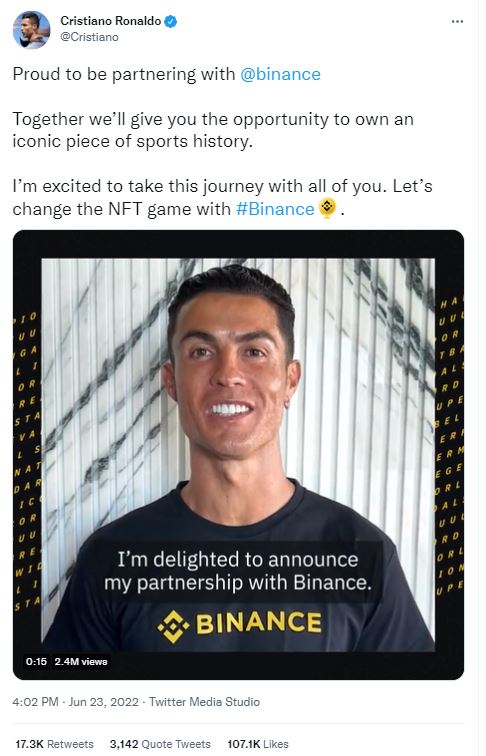 Sports sponsorships and partnerships have become a more prevalent tool when it comes to large crypto-exchanges and ventures seeking to broaden their brand awareness. The previous year has seen Crypto.com signing a $700 million deal to rebrand the Los Angeles Staples Centre into the Crypto.com Arena with FTX Trading following through with selling a stake to Tampa Bay Buccaneers quarterback Tom Brady.
This being said, it does come at a dire time for the market as a whole, with the crash of Luna and a number of other events such as the freezing of the Celcius Network leading to a massive market contraction that has seen Bitcoin fall from over $60,000 to dipping ever so slightly under $20,000. This would constitute a 2/3d fall from its highest selling point with several projects falling afoul and investor funding tightening significantly.
Join us in Belgrade, Serbia from the 22-25th August:
With the peninsula being known for its natural beauty, rich cultural landscape and fantastic delicacies, the Balkans are renowned for having some of the most quintessentially Mediterranean vistas and experiences. From the Adriatic coastline of Split to the fairytale-esque castle of Lake Bled, the region has a lot to offer the world. This being said, something that fewer may know is the fact that the nations of the Balkans are incubating a nascent but powerfully growing technical expertise when it comes to frontier technology such as Blockchain, AI and more. Therefore the region may not only be a rich adventure into the past but my also serve as a window into the very near future.
Join us in Belgrade for the best the industry has to offer and for a window into the future of Deep Tech. To learn more about sponsorship and speaking opportunities or to inquire about attending the event, please contact Sophie at [email protected]