Encore Fans have been chosen as the AIBC Europe Pitch champions this afternoon! The AIBC Europe Pitch is on of SiGMA Group's many ways of giving back, providing the stage for up-and-coming startups to present their ideas and progress to leading KOLs and investors.
Encore Fans are making an asset out of identity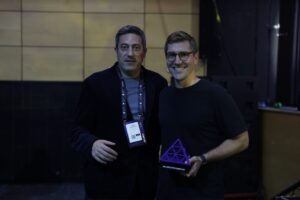 The day's champions turned out to be Encore Fans, who won the AIBC Pitch trophy with their software idea aimed towards turning identity into an asset of mutual benefit to users and brands.
With today's brands spending over $50 billion to collect 3rd party user data, Encore are working hard to revolutionise the brand-user relationship by providing brands with the ability to directly reward users in exchange for their data. Powered by Encore's white labelled web-app and Fan ID protocols, brands will gain access to first-party user data across all touchpoints, while the user will be awarded for the data they share. Encore Fans are on the Chainlink startup program, with their USP promising to provide a secure, Blockchain-based solution for issuing verifiable smart contracts.
It's a great honour to be holding this trophy right now! The competition has been fantastic. It's actually my first time here in Malta, but I'm happy to say that I'll be returning to future AIBC Summits. The conference has been incredible, and the supportive atmosphere for startups truly shows. The next step is to cultivate more cooperation between the startups themselves. – Mike Sorgenfrei Co-Founder and CEO of Encore Fans.
The AIBC Europe Pitch featured a panel of handpicked judges with expertise spread across a variety of fields. Some notable names on the panel were the legendary Blockchain pioneer Scott Stornetta and the Malta Digital Innovation Authority's CTO, Efrem Borg. Pitches that took to the stage included innovative ideas for the GameFi, SocialFi Crypto, Blockchain and EdTech sectors, including next-stage Crypto wallets and payment methods.
AIBC Europe is back bolder than ever!
2022 has been a bustling year. Following major success in Dubai, Toronto and Belgrade, Malta Week has returned to rock the island awake from its Autumn-blues stupor. KOL-led conferences, luxurious nightly festivities and a gripping pitch competition, Malta Week is the location to be for the latest developments from the major emerging tech industries. Benefit from all this and premium networking opportunities by hopping onto the bandwagon and getting your ticket now!
The AIBC Europe Summit is taking place between the 16th and 19th of November at the Hilton Hotel, Saint Julians, Malta.