In the last 24 hours, the total volume of the global crypto market was $45.40 billion, a decline of 5.94 per cent. The global crypto market cap, however, saw a bullish increase of 2.98 per cent over the previous day, reaching $1.20 trillion at 10 am IST on Wednesday. Coinmarketcap reported that DeFi was trading at $4.87 billion, accounting for 10.72 per cent of the total crypto market 24-hour volume.
BTC remains in bullish zone despite volatility
Bitcoin (BTC) has recently seen a rise in price after previously hitting a low of $27,213, with its value approaching the $29,000 mark. BTC's price had been fluctuating between $26,500 and $28,500, with neither the bulls nor the bears able to break out of this range. Despite multiple attempts by buyers to overcome the $29,000 resistance, they have been unsuccessful.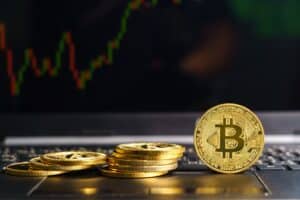 On April 3, BTC's price dropped to $27,213, but buyers were quick to make purchases, resulting in a price increase. Since March 18, the cryptocurrency has been hovering between the $28,000 resistance and $29,000 price levels. Despite this volatility, BTC remains in the bullish trend zone, with buyers currently leading over sellers. The cryptocurrency is currently trading above the 21-day SMA, indicating that bulls are in control of the market. Buyers are working to keep BTC's price above the $29,000 overhead resistance.
If buyers are successful, the price of Bitcoin is expected to reach the psychological marker of $30,000, with further bullish momentum taking it up to the high of $31,000. However, if the bears manage to halt this bullish scenario, the bearish momentum may persist and cause the price to drop below the 21-day SMA. This could result in increased selling pressure and a potential low of $25,200. If the price falls below the $25,000 support level, the downtrend is likely to continue. Currently, Bitcoin's price is at level 60 of the 14-period Relative Strength Index, indicating that it still has room to increase further.
Bloomberg Senior Commodity Strategist Mike McGlone has stated that Bitcoin is more decentralised than other cryptocurrencies, such as Ether, making it "untouchable" despite ongoing regulatory pressures on the crypto industry. In a recent conversation with crypto podcaster Scott Melker on April 3, McGlone argued that those who do not have some exposure to the cryptocurrency market are "seriously silly." Unlike other currencies, regulators cannot banish Bitcoin due to its decentralisation.
Despite the positive outlook for Bitcoin, its price has approached the $29,000 mark, with buyers aiming to revisit the overhead resistance at this level. However, the price is getting closer to the market's overbought zone, which could impact its upward trend. Nevertheless, in a strongly trending market, the overbought condition may not last.
Bitcoin continues to maintain its position as the number one cryptocurrency on Coinmarketcap based on its market cap, which remains unchanged from yesterday. Its dominance at 10 am IST was 45.86 per cent, a decrease of 0.22 per cent over the previous day.
Altcoin market benefits from Ethereum's display of strength against BTC
Ethereum (ETH) witnessed a 5.76 per cent increase in price to $1,913.00, with a 24-hour trading volume of $11.67 billion. A sustained momentum in Ethereum's price against Bitcoin may benefit the overall altcoin market, as it tends to thrive from ETH's display of strength against BTC.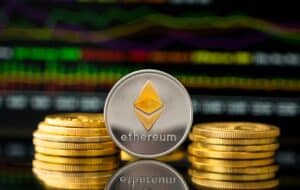 If buying pressure increases from current levels, Ethereum's price may rise by 6% to challenge the next resistance level at $1,982. In a highly bullish scenario, the altcoin could surpass the $2,000 mark and reach the $2,093 resistance level, marking a 12% increase from the current price.
On-chain data analysis by IntoTheBlock indicates that the next significant resistance area lies between $2,046 and $2,902, where over 8.5 million addresses had previously purchased more than 26.69 million ETH at an average price of $2,537.
However, if profit-takers decide to take early profits, Ethereum's price could correct downwards and break the $1,753 support level. This would expose ETH to further downside risks, leading to a free fall towards the 50-, 100-, and 200-day EMAs at $1,687, $1,603, or $1,589 levels, respectively.
Altcoins following Ethereum's lead
Three days after US attorney John Deaton suggested a prolonged wait for Judge Analisa Torres's summary judgment, Ripple's price (XRP) broke below what was once a crucial support level of $0.507. This news reduced XRP's bullish momentum, leading to a downtrend at the start of the month. However, community members remain optimistic and anticipate a favourable ruling, which provides investors on the side-lines with an opportunity to buy the altcoin at discounted rates.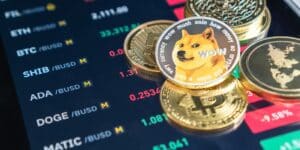 If this group of buyers takes advantage of the situation, Ripple's price could climb back above the $0.507 resistance level, turning it back into support before facing the $0.531 area. If XRP surpasses this barrier, it could aim to reach the late March highs at $0.558, potentially opening the path for further gains.
Conversely, if selling pressure increases, Ripple's price could continue its downward trend, breaking below the $0.477 support level. In extreme cases, XRP could drop further to hit the $0.443 level, which would represent a 12% decline from the current price.
Dogecoin (DOGE) was the most trending cryptocurrency for the second consecutive day, with a 1.46 per cent increase in price to $0.09776.
ICON (ICX) emerged as the top gainer, with a 16.52 per cent increase in price to $0.4412 and a 24-hour trading volume of $682.96 million. UNUS SED LEO was the top loser, experiencing a decline of 1.23 per cent in price to $3.38, with a 24-hour trading volume of $1.25 million.
Tether (USDT) maintained a stable price, experiencing no change in the last 24 hours and trading at $1, with a 24-hour trading volume of $33.88 billion. It ranked third on CoinMarketCap. Solana (SOL) experienced a 3.84 per cent increase in price to $21.22 in the last 24 hours.
Avalanche was trading at $18.13, up by 5.95 per cent, while its 24-hour trading volume was $187.48 million. Cardano (ADA) witnessed a 1.30 per cent increase in price and is ranked seventh, with a 24-hour trading volume of $375.43 million. Shiba Inu saw a 0.93 per cent increase in price to $0.00001141.
Yearn.finance experienced a 5.02 per cent increase in price to $8,787.63 in the last 24 hours, while its 24-hour market cap was $288.17 billion. The volume of DeFi was $4.87 billion, accounting for 10.72 per cent of the total crypto market 24-hour volume.
Stay ahead of the curve with AIBC News
With its in-depth analysis and coverage of the latest news and trends, AIBC News is the best source of information for those seeking to stay informed and make informed decisions in the crypto market. Head over to our news site for our daily market analysis, expert insights, and breaking news updates on everything related to Blockchain, Crypto, AI and emerging tech.