The price of bitcoin plunged again after the China Banking Association warned of risks associated with digital currencies
The most popular cryptocurrency's price fell more than 9 per cent to about $32,000 after the China Banking Association warned members of risks associated with digital currencies.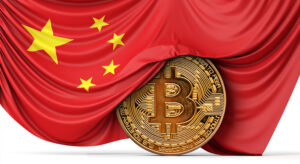 A statement posted on the industry association's website said all members should "resolutely refrain from conducting or participating in any business activities related to virtual currencies." The notice said such digital currencies were subject to great volatility. Bitcoin was trading above $50,000 last week after its price plunged 10 per cent following Tesla CEO Elon Musk's reversal of his stance on the digital currency when he said the electric car maker would no longer accept it as payment.
According to the Financial Times, the latest development reflects China's campaign to limit institutional activity in cryptocurrencies as it prepares to launch its own digital currency.
Other markets such as the US have remained comparatively open to institutional involvement.
Paul Haswell, a partner at law firm Pinsent Masons in Hong Kong, said that part of the Chinese intervention is that they have their own digital renminbi, part is the lack of control in terms of cash outflows and part of it is trying to make sure people don't get scammed."
China's pressure on cryptocurrencies gained momentum in 2017 when it closed the country's bitcoin exchanges, which had previously accounted for most of the global trading.
AIBC Dubai:
AIBC UAE will take place on the 25th to 26th May, 2021, in the emirate of Dubai. The event will bring together key brands and individuals from the converging sectors of AI, blockchain, IoT, Quantum Tech to discuss and shape the future of emerging tech.
It is one of the leading events globally for blockchain, AI, crypto, and other emerging technologies, and gathers together an elite selection of delegates, policymakers and thought leaders from across the globe. Such international recognition has helped propel AIBC Summit become a favourite on the world circuit for emerging tech conferences and expos.