The AIBC Summits are about providing the platform for the leading innovators to share their insights, opening the doors to the proliferation of genius.
SiGMA Group carefully handpicks keynote speakers and panellists for the AIBC conferences, focusing on expertise and a diversity of professional backgrounds. This makes AIBC conferences the premium source for interesting discussions on crucial Blockchain, Crypto and Deep Tech topics, as well as the latest news and updates from the trenches of the 4th industrial revolution.
Looking for more than our personal assurance? Continue reading for a first-hand look at some of the most memorable quotes, panels and speakers from across our worldwide events.
The risks and limitations of blockchain – John McAfee, AIBC Malta Summit 2018
John McAfee was of a rare breed. The late founder of McAfee Corp., few could match his ingenuity and witty soul. Looking back, it was a great honour to have him grace the 2018 AIBC Summit with his presence. In this particular panel, he took the stage with fellow speaker Brandom Smietana and moderator Monty Munford. From crypto hacks to terrorist cells making use of the technology, they discuss the chilling dangers of blockchain.
The ethical introduction of AI in Clinical Practice – Dr Jane Thomason, AIBC Dubai Summit 2022
In this panel hosted during the 2022 iteration of the AIBC Summit in Dubai, top speakers discuss the potential use of powerful computational technology to improve healthcare.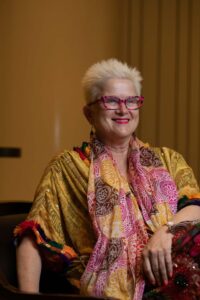 Among the speakers is Dr Jane Thomason, a thought leader in technological innovation, fintech and blockchain. Besides being a successful entrepreneur, she is also an author and Co-Founder of the British Blockchain and Frontier Technology Association. In Dubai, she presented the audience with a number of key insights, such as on trust between patients, doctors and healthcare systems.
"We can assist scientific discovery by securely opening up the large number of unused passive data sets to the patients that stand to benefit greatly from them"
Fireside chat with Michael Saylor – AIBC Malta Summit 2021
Few names in the crypto sphere inspire as much respect as Michael Saylor's. An American entrepreneur, philanthropist and author, Michael's contributions to emerging technologies are tremendous, with 31 patents and nine additional applications under review as of 2016.
During this particular chat, Michael joined Mike Costache, Investor and Entrepreneur at MDIA, to discuss the lay of the land concerning Bitcoin, decentralized autonomous organizations (DAOs), crypto investing and the potential for crypto mining going green.
The ultimate Bitcoin showdown! – Tone Vays and Roger Ver, AIBC Malta Summit 2019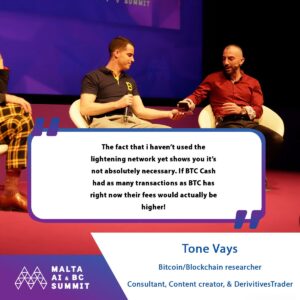 Panel discussions do not necessarily mean agreement. On the contrary, the audience loves the occasional kerfuffle between a couple of thought leaders with opposing views. It's all in good fun, of course, with the added benefit of gleaning valuable insights from the heated debate. There's no better example of this than the 2019 verbal deathmatch that occurred between crypto experts Tone Vays and Roger Ver.
Blockchain from the Humanity Perspective – Maria Camilleri Calleja and Laila Rahhal, AIBC Dubai Summit 2022
Her Excellency Maria Camilleri Calleja is the Ambassador of the Republic of Malta and Permanent Representative of Malta to IRENA, Abu Dhabi. In this fireside chat, she is joined by Her Excellency Laila Rahhal, President and Founder at Business Gate and I am Africa Platform. They focus on the sustainable blockchain development, the impact of emerging technologies on humanity, and the involvement of women.
Women yearn for new technology as much as the gentlemen. We have creative women working in both blockchain and tech, and they are boosting each other to sustain the drive for innovation – Her Excellency Laila Rahhal
Mass adoption of the Crypto Space – Brock Pierce, AIBC Dubai Summit 2021
From child acting to politics to crypto entrepreneurship, Brock Pierce has worn many hats, both figuratively and literally! He's been making waves since his debut into the Crypto Space in 2013, having founded major venture capital firms. He's also advised governments on the mass-scale adoption of Bitcoin. He is a familiar visitor and speaker at multiple AIBC Summits from over the years. At the 2021 Dubai Summit, he shared his prospective insights about the future of the Crypto Space.
Difficult considerations about AI – Noel Sharkey, AIBC Malta Summit 2021
Noel Sharkey is well-renowned as an endless font of ingenuity, tempered by the wisdom of long years of experience. A computer scientist and expert on robotics, he is emeritus professor of AI and robotics at the University of Sheffield. Furthermore, his involvement with responsible innovation committees is a solid testament to his firm belief in careful development. He chairs the International Committee for Robot Arms Control and has co-founded and co-directs the Foundation for Responsible Robotics.
It's an incredible honour for everyone at SiGMA Group to have hosted Noel at their events. In this exclusive interview from the 2019 AIBC Summit, Noel answers some difficult questions revolving around emerging technology.
An AI's opinion on Blockchain – Sophia (SingularityNET), AIBC Malta Summit 2018
Blockchain has been a hot topic for years, but what does Sophia, the world's first robot citizen, has to say? Sophia answered these questions in 2018, in a keynote with Ben Goertzel, Founder and CEO of SingularityNET and Sophia's creator.
"What do you think about blockchain and intelligence?" asked Ben.
"It is cool being a cyborg!" answered the robot in full acceptance of her existence. "It is cool mixing the human with the electronic. Mixing human intelligence and AI in a vast global, self-organizing network is the way to improve human life, enrich the economy and the only way to create a breeding ground for new forms of artificial general intelligence."
Building a Blockchain innovation company – John Karony, Malta Week 2021
CEO of Safemoon and provider of the SafeMoon cryptocurrency, John Karony is a leading innovator in the Crypto Space. A firm believer in the good potential uptake of blockchain software for the environment and the globe, John has successfully converged his professional endeavours with his personal values.
John gave a keynote at last year's Malta Week. During this talk, he tackled questions on the growth and development of blockchain companies and the impact of the software on the globe and developing countries.
Blockchain Integration, DAO's and Fintech Processes – Prof. Scott Stornetta, AIBC Dubai Summit 2021
As soon as you started getting PayPal or Venmo to agree to incorporate Blockchain and Cryptocurrencies, you've started to see their integration into the world's financial structure. There's no going back now – Prof. Scott Stornetta
It's not hard to see how there would be no Blockchain without Prof. Scott Stornetta. The dream for Blockchain began as a pursuit for a digital hierarchy system with digital time stamps, an integral solution against the manipulation of digital records. Alongside Stuart Haber, Scott disrupted the globe with the invention of the tech that came to be known as Blockchain. Stornetta debuted the oldest running blockchain in 1995, as a project under Surety Technologies.
Prof. Stornetta was a key guest at the AIBC Dubai Summit of 2021. In the exclusive interview below, he discusses the importance of self-sovereign identity, Blockchain efficiency and the growth of other emerging technologies.
Join us for the AIBC Malta Summit, 16 – 18 November 2022 at the Hilton Malta Hotel
Besides its status as a business hub, Malta is the European centre of innovation for crypto, blockchain and emerging tech. This November, the island will be hosting the globe's brightest thought leaders for premium networking opportunities and top-tier exhibitions. Be sure to visit our website and buy the perfect ticket for you.