This bot would eliminate 'dangerous, repetitive, boring tasks'
Tesla has just announced that they are working on launching an AI Tesla Bot prototype by 2022. During the Artificial Intelligence Event, Elon Musk argued that artificial intelligence is posing an enormous threat to human safety and this is a problem that has to be tackled. He made a special effort to console individuals who have been raised on movies with executioner bots that this won't be risky. Warning, "We're setting it such that it is at a mechanical level, a physical level, that you can run away from it."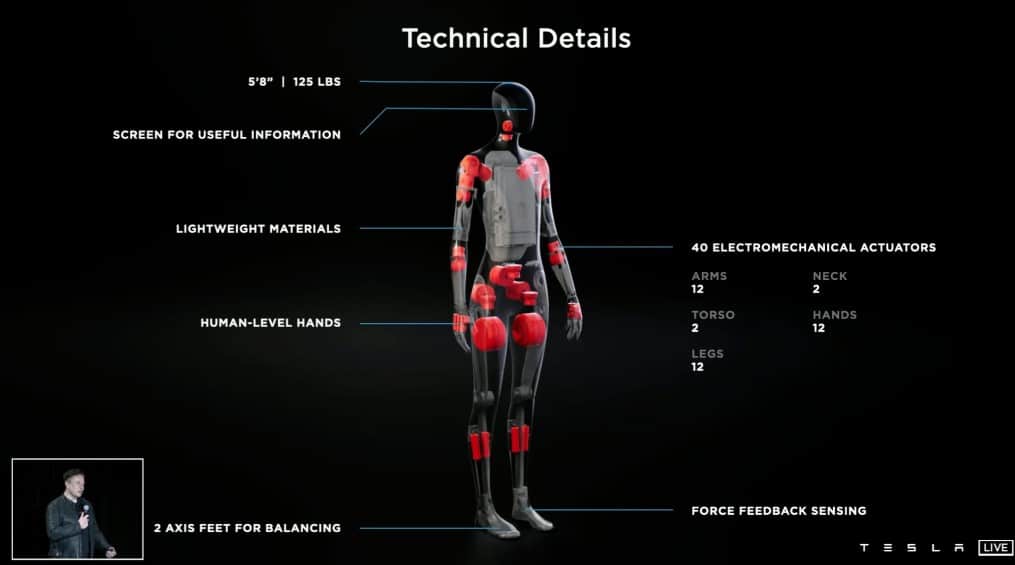 The planned robot will be 5 feet 8 inches tall and weighs 125 pounds. The CEO stated that for this robot, the company is trying to be as literal as possible and the main aim is for the robot to eliminate boring, dangerous, repetitive jobs that people don't want to do.
"You know, once you have it do that, maybe it can do other things too…I mean, maybe it could be your buddy, too. I'm sure people will think of some very creative uses." Warning about the dangers of AI he said that these bots will "most likely overpower it."
It will utilise multi-camera video neural networks, identical to what was detailed during the company's AI Event. Additionally, Neural Net planning, labeling, simulation, and tools will also be used to help the Tesla Bot operate effectively and efficiently, while accurately performing tasks.
Improving functionality, this robot will be utilising the Dojo's Supercomputer's training mechanisms to handle "tasks that are unsafe, repetitive or boring."
The Tesla Bot will likewise use a portion of the organization's AI devices that are functional on the organization's vehicles. Autopilot cameras will go about as the vision for the Tesla Bot, while a Full Self-Driving PC will work as the inward organs of the robot.
The bot was the masterpiece of Tesla's AI Day, during which designers gave profoundly specialised introductions on the organization's self-governing driving improvement.
"If we don't make it, someone else would, so I guess we should probably make it. And make it safe," Musk concluded.
Next up: Malta Week
Don't miss out on amazing networking opportunities and exclusive industry insights at Malta Week. Four leading shows will bring the best of the business back-to-back to a first-class meeting point. Malta Week will consist of SiGMA, AIBC, Med-Tech World and AGS, each presenting the top developments of their focal industries.
The cross-collaboration of each brand make Malta Week the number one destination for leading think-tanks of the gaming sector, emerging tech, digital health and digital marketing. The middle of the Mediterranean is the perfect place for multi-faceted business deals and face-to-face conversations with leading affiliates, policymakers and thought leaders.