Speaking at the AIBC conference yesterday, Kenneth Brincat, CEO of the Malta Department of Innovation Authority (MDIA) elaborated on the need for a solid framework and tools to support positive growth – without hindering innovation.
"We are happy to see the European Union follow through with regulations aimed at protecting users and investors in this field. The MDIA is also focused on the technology of Artificial Intelligence. In 2019, the national AI strategy was launched, covering all areas and sectors," Brincat said.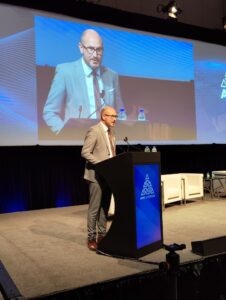 It will encourage growth, ensure quality, and improve the society impact of technology, he continued. From strengthening expertise through scholarship funds and financing research projects to supporting large scale projects. By providing a display of potential benefits that such technologies can offer, the national AI strategy focuses on various other elements as it takes a holistic approach. The MDIA acts as an AI launch path, providing a place where local and foreign companies and entrepreneurs can develop prototype, test, and scale AI solutions and ultimately showcasing the value of their innovations across an entire nation.
"Once again, we are happy to see the European Union discussing these same issues and discussion, which mirrors much of the experience we gained and lessons we learned over the past few years.
"We believe that the role of MDIA is that of embracing innovative technology and not just individual sectors or technologies. We have been exploring various tools to enable this. One of the facilities that we introduced in to the local ecosystem is the technology assurance sandbox, which aims to support startups."
Moreover, the sandbox supports the exploration of new technologies and their interaction with existing regulation – resulting in feedback both to the sandbox residents, but also enabling MDIA to identify regulatory barriers and regulatory gaps that require addressing.
"I would like to reiterate the importance of having prosperity technologies – if we are to see continued growth in the adoption of technology in the wider society it is important that we empower both the creators and the users of such technology with appropriate regulatory."
Join us: 14 – 18 November for Malta Week
Malta is a hub of global business. The island is an obvious choice for AIBC's presence in Europe and a strong foundation for the field's future. With a plethora of prospects for both investors and entrepreneurs looking to shape the future of this multi-billion-dollar business, Malta Week will bring together industry giants among the affiliates, operators, and suppliers of the gaming sector.