The NFT features a gold trophy with "diamond hands", a group of Shiba Inu dogs, a moon and the famous crypto term "HODL"
The newly announced Technoking of Tesla has announced that he has put up a song about NFTs as an NFT. The tweet currently has 209k likes with over 10 million views on the video.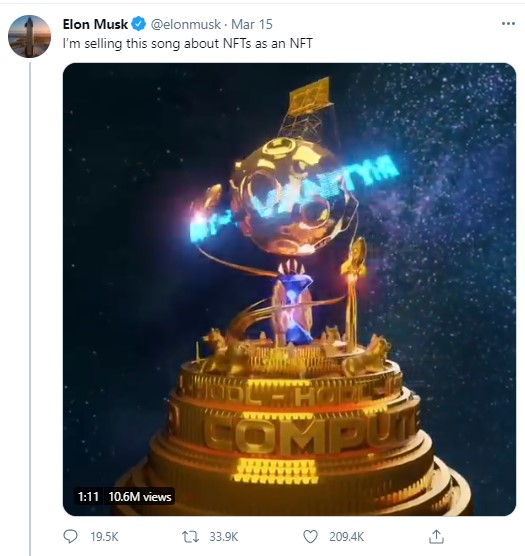 However, Elon Musk has recently tweeted that he is having second thoughts about selling this NFT:

The NFT features a rotating moon and rocket, diamond hands, group of Shiba Inu dogs and the famous crypto term "HODL".
Even though Elon Musk has tweeted about not wanting to sell the NFT, it is still available on the Valuables platform with the highest bid currently sitting at $1,121,000 from Bridge Oracle CEO, Sina Estavi. Estavi was also the highest bidder for Jack Dorsey's and Twitter's first ever tweet.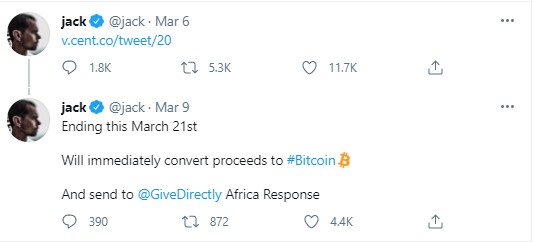 However, the NFT has also garnered interest from other famous people in the industry. Tron founder Justin Sun expressed his interest to buy the NFT, as did Beeple who made headlines recently as his NFT art sold for $69million in a Christie's auction.
The Valuables platform has proved to be a popular bidding platform for NFTs as Jack Dorsey also used Valuables to sell his first-ever tweet.
Jack Dorsey's sale is set to end on March 21st, however, it is yet to be confirmed whether Elon Musk will go through with the whole process or pull out instead.
Source: news.bitcoin
About AIBC:
AIBC Summit is a global expo covering topics relating to the global sectors for blockchain, AI, Big Data, IoT, and Quantum technologies. The event includes conferences hosted by globally renowned speakers, workshops for industry learning and discussion, an exhibition space accommodating more than 400 brands and a number of networking events.