Akon's vision for Africa's future sees renewable energy and the power of blockchain come up with new innovative ways to ease navigating the necessities of day-to-day life
Using renewable energy, the power of blockchain, and IoT to come up with new innovative ways to have seamless living all flows from Akon's vision. Akon is seeing a future that is coming to life. What's astounding is that this vision can be used not just for Africa but the rest of the world. Akon joined the AIBC stage this morning sharing more of his plans and innovative thoughts during the summit.
He explains how he's doing his best to shape Africa and give individuals there a better future. "Akon city is a fully renewable blockchain integrated city and what we want and hope is to be the staggered of all the living in the rest of the continent."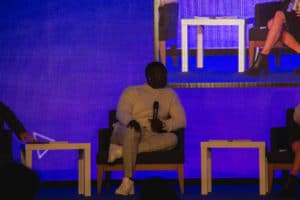 He goes on to further say that Africa is a flat white surface meaning leading mindsets can do any and everything they want to do there. "All the capabilities, resources, and minerals are there and it's just a matter of great minds to understand what that future looks like and develop Africa in a way that the rest of the world is already developed. With Africa, we can start from scratch and build it up."
The moderator, Dustin Plantholt, who is also the Founder and CEO of Crypterns and Forbes Monaco, Editor Crypto, explains how Akon is leading the charge in the world on education and also the opportunity which lies on the blockchain.
Akon says that he always believed that Blockchain is what's going to save Africa. "Unfortunately, the infrastructure that was built in Africa was not sustainable enough for it to grow. Conflicts and corruption didn't allow it to grow either and I believe that Blockchain will erase all of that."
As time is progressing, crypto is progressing more and it has become an easier conversation for people. Akon believes that the digital age is what is going to transform the future to become what it is supposed to be.
WATCH: Akon speaks to AIBC News
When it comes to Akon's personal life he comments that while he's moving, he's always thinking of a long-term goal. "I'm moving towards what that future goal is and trying to align everything that I'm doing towards that future goal."
John Karas, Co-founder, and President of Akoin conclude that the more impact you make on people, the more possibilities you open up to succeed and grow. With people rooting for you, profitability and growth automatically come your way.
Malta Week – Save the dates:
For the first time ever SiGMA Group is bringing its 4 leading shows together for the mother of all conferences. From the 15th to 19th November, SiGMA, alongside AGS and AIBC will bring the best in the business to a first-class meeting point at the Malta Fairs and Convention Centre (MFCC). Malta Week is a chance for investors to leverage the significant crossover potential for multi-faceted business deals and to double down on opportunities to connect with some of the leading affiliates, policymakers, thought leaders, suppliers, and operators in the industry. Register now!