After so many months of eager anticipation, SiGMA Group debuted its AIBC summit in the Balkan region. This inaugural event got off to a wonderful start with attendance exceeding 2,700 esteemed delegates. As we wrap up another groundbreaking event for this year in Belgrade, here are some fantastic recollections from this week's three-day summit.
1. Balkan landmarks guided tour
Delegates had the chance to celebrate Belgrade's vibrant Serbian culture during a city tour on the first day of the Summit. The tour took them through the city's Medieval landmarks as well as its modern-day attractions, revealing the city as a center of history and a crossroads of forward-thinking and innovation.
The Balkans are regarded for having some of the most distinctly Mediterranean views and experiences, with the peninsula being famed for its natural beauty, rich cultural heritage, and outstanding cuisine. The area has a lot to offer with delegates visiting Split's Adriatic coast to Lake Bled's castle-like setting. Here they were able to learn more about the rich history and origins of Belgrade. From Belgrade's world-class restaurants to its coffee on the view along the Danube and Sava rivers this was the perfect introduction to the Balkans' most populous city.
2. Heated debates
Some of the most significant discussions in the overall context of the revolutionary tech business were held on the AIBC conference stage.
Top speakers attracted a large audience to the stage through several panels highlighting important facets of the rapidly changing tech world.
Here's what some of them had to say:
"The digital asset age is the new internet. It represents the biggest shift in the financial services of a generation." – Cal Evans
"Blockchain is moving away from the buzzwords and diving into true functionality." – Josh Berger
"NFTs are going to be a mainstay in the real world. They already accompany real transactions." – Alexandre Hardouin
"It's a fragile balance between centralisation and decentralisation – we are still in the beginning of the journey of understanding what works for an organisation." – Alex Migitko
3. Charity drive
Carrying on the event's good feeling on Tuesday night, AIBC's charity auction generated €19,000 for the SiGMA Foundation through competitive bidding. Rick Goddard, who was leading this art auction, put a number of paintings and NFTs under the hammer, including works by Malta-based artist Derek Mason.
The most popular piece of art from the evening, Heraldic by Derek Mason, which depicts Belgrade's growing status as a gaming hub, sold for €10,000 after a round of spirited bidding. Another €2000 was made by Mason's version of the well-known mask from the V for Vendetta film, and a similar oil on canvas, Innovation, also sold for €5000.
Additionally, a mythology-inspired painting showing the Titan Atlas defending the cryptocurrency industry helped the SiGMA Foundation charity raise €1,500. Gnomevil's NFT was another item for sale, and a customer wanting to own one of the five items in this collection quickly bought it.
The funds generated from this night will be used for ongoing projects that the Foundation is running such as the construction of a primary school in Ethiopia, the installation of a solar power system to benefit distant areas in the Philippines, and a project headquartered in Malta to combat loneliness.
4. Success on stage
Amongst premier networking opportunities during the summit was the gala Awards Night which brought together luminaries in the industry together for an evening of recognition and celebration of achievement, attracting a guest list of over 300 esteemed individuals to its inaugural debut in the Balkan region. We heartily congratulate each of the AIBC Balkans Awards winners.
Some of these winners included: Huobi Global (Best Crypto Exchange of the year), DeepMine (Best Gamefi Project of the year) and UniGrid (Best Blockchain Solutions).
5. Cutting-edge media
Those participating in the Summit commented on the event as a rapid way to expand well beyond the Balkans, with opportunities ranging from podcasts, interviews and features on the expo floor. With a wide range of thought-leaders, C-Suite executives, and visionaries advancing the industry, AIBC's interviewers, and reporters were on the go collecting great content in a designed space created for all exhibitors to conduct interviews.
SiGMA Group has mastered the art of providing our sponsors, exhibitors, and all delegates with their time in the spotlight and wholeheartedly thanks the expertise of our top-tier in-house media team, which consists of videographers, content specialists, interviewers, and reporters.
6. Pitch deck aced
AIBC Pitch also took place during the event with Peter Pekic, CEO of Beehold.rs, crowned winner. Beehold is a digital assistant designed for beekeepers. With a vision to digitalize every hive on the planet, it works to ensure that bees are healthier and a beekeepers' work is more efficient. Ilija Jaksic speaks to Peter Pekic, CEO of Beehold.rs, and winner of AIBC Belgrade's first startup pitch. Beehold is a digital assistant designed for beekeepers. With a vision to digitalize every hive on the planet, it works to ensure that bees are healthier and a beekeepers' work is more efficient.
Pekic explains how important an event like the Pitch is as he goes on to further say that it gives visibility to companies that are starting out. "It's a really amazing feeling, especially because we really didn't expect this. It really surprised us, it's a huge honour and the wind at our backs – spurring us on, motivating us to keep going."
When asked about how the compnay will be utilising the investment prize he explains. "We are already in the process of getting investment, and are looking for E200,000 in investment. We have some lead investors – a Canadian Spring Activator and a Boston Angel Investment network. So this is an amazing opportunity to get the additional investment and support we're looking for."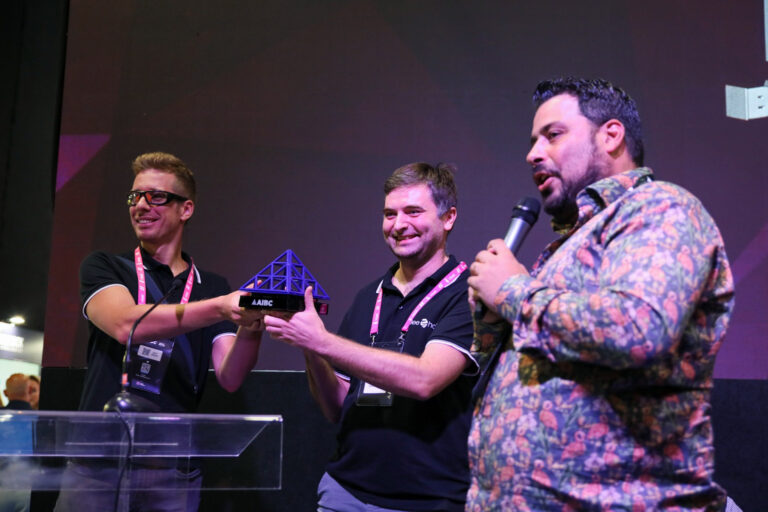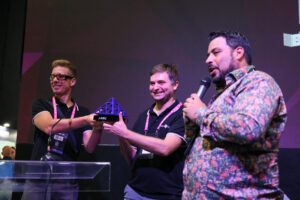 7.VIPs mingle and dine
Over the summit's three days, guests were able to attend a variety of VIP networking dinners. These meals gave them plenty of opportunities to meet with fellow industry dignitaries while taking in some of Belgrade's greatest views.
The VIP dinners provided the ideal opportunity to network and make connections in a friendly environment where they could relax and forge synergies. Dinners like these are fully sponsored and completely free of charge for our wonderful delegates. These evenings offer the chance to discuss the concepts raised on stage with the professionals in-depth and in a relaxed setting and have been essential in bridging the gap between investors and investees.
8. MMA fight of the season
A lot of work and organization was put forward for this other stellar evening. On Aug 24th, 2022 at KSC Pinki Zemun in Belgrade, Centurion in collaboration with SiGMA Group presented the Centurion FC Leo Rudit tournament.
From the spectacle of fighters being carried to the cage by Roman Centurion Soldiers to raw strength and emotion expressed in the ring, Centurion FC showcased all facets of this great sport as part of the event. This evening saw many prominent athletes of the European scene putting up a great show and exciting the audience present.
These were the 9 bouts played throughout the night and their winners:
Pochev VS Mecanovic: WINNER Pochev
Costello VS Novakovic: WINNER Costello
Zivanovix VS Akif: WINNER Akif
Dragisic VS Tetruashvili: WINNER Tetruashvili
Suprovici VS Zembala: WINNER Zembala
Spasic VS Tauber: WINNER Spasic
Kandic VS Grozdev : WINNER Grozdev
Marjanovic VS Marazzo: WINNER Marjanovic
Jakovlkevic VS Chepo: WINNER Chepo
9. HellRaisers conquer Esports stage
Overwhelming excitement filled the Esports Arena as the Dota 2 tournament took place on the expo floor. The tournament organised by SiGMA Group, in collaboration with TwogNation, was also what made part of the three-day expo. In a round-robin format, four teams played for points, with Hell Raisers and LevelUP moving on to the final championship match.
The fight was intense right up to the last seconds when Hell Raisers pulled off the feat that won them the title. Sincere congratulations to the winners and to all the competitors for such a captivating display of talent.
10. A night to remember
Wrapping up the event in style, the Closing Night delivered top-notch entertainment to the thriving tech and gaming district of Belgrade. Thanking our guests, speakers, and exhibitors for their support, AIBC hosted a cracking evening featuring a lineup of top DJs including DJ JJoy and DJ Uppeke.
The official, highly-anticipated close-off took place on the last day of the event at Hype Belgrade Night Club. This luxury, high-class club is located at ex Mixer House, one of the most popular nightlife areas in Belgrade, at Savamala. With an exclusive attendance list of VIPs, industry leaders, specialists, policymakers, and c-levels from around the globe, this evening was surely not one to be missed.
Up Next: Malta Week 2022
After the successful completion of the AIBC Toronto and Dubai Summits, SiGMA Group is working diligently on this year's edition of Malta Week. From the 14th to the 18th of November, the company's most prominent brands will be brought together under one roof for the AIBC Europe Summit, the premier networking opportunity of the year. The Summit at MFCC Ta'Qali is a stellar expression of European innovation in the Gaming, Esports and Emerging Tech sectors, featuring numerous panels and conferences by leading experts. Interested in joining our long list of speakers, exhibitors or sponsors? Please contact Sophie to reserve your spot, or visit our website for more information.