Co-founder of Dash Next Felix Mago, Digital & Blockchain Business Consultant Stefan Kovach and Cryto Analyst Tone Vays, join ZBX CEO Dave Pulis as the moderator, in a dicussion about DEFI banks and their potential to restructure the financial world
After the introductions moderator Dave Pulis asks the panelists to define Defi, following his statement that it's a word that morphs into different definitions from different points of view in the industry, and Tone Vays starts by saying that he blieves that there's only one project in all of blockchain that is decentralized and he says that that, to him, is Bitcoin.
Felix Mago follows Vays and he says how a lot of things have happened in blockchain and that finally there are many products that function well and that we can do stuff with, saying how it's such a constantly changing world that the possibliities are endless.
Stefan Kovach then enters the conversation from Mago's point of the industry being a 'fast moving space', syaing how whereas crypto had the perk of pushing this universal payment, Defi has the ability to open up financial products to a much wider gorup of people in a different way than traditional finance.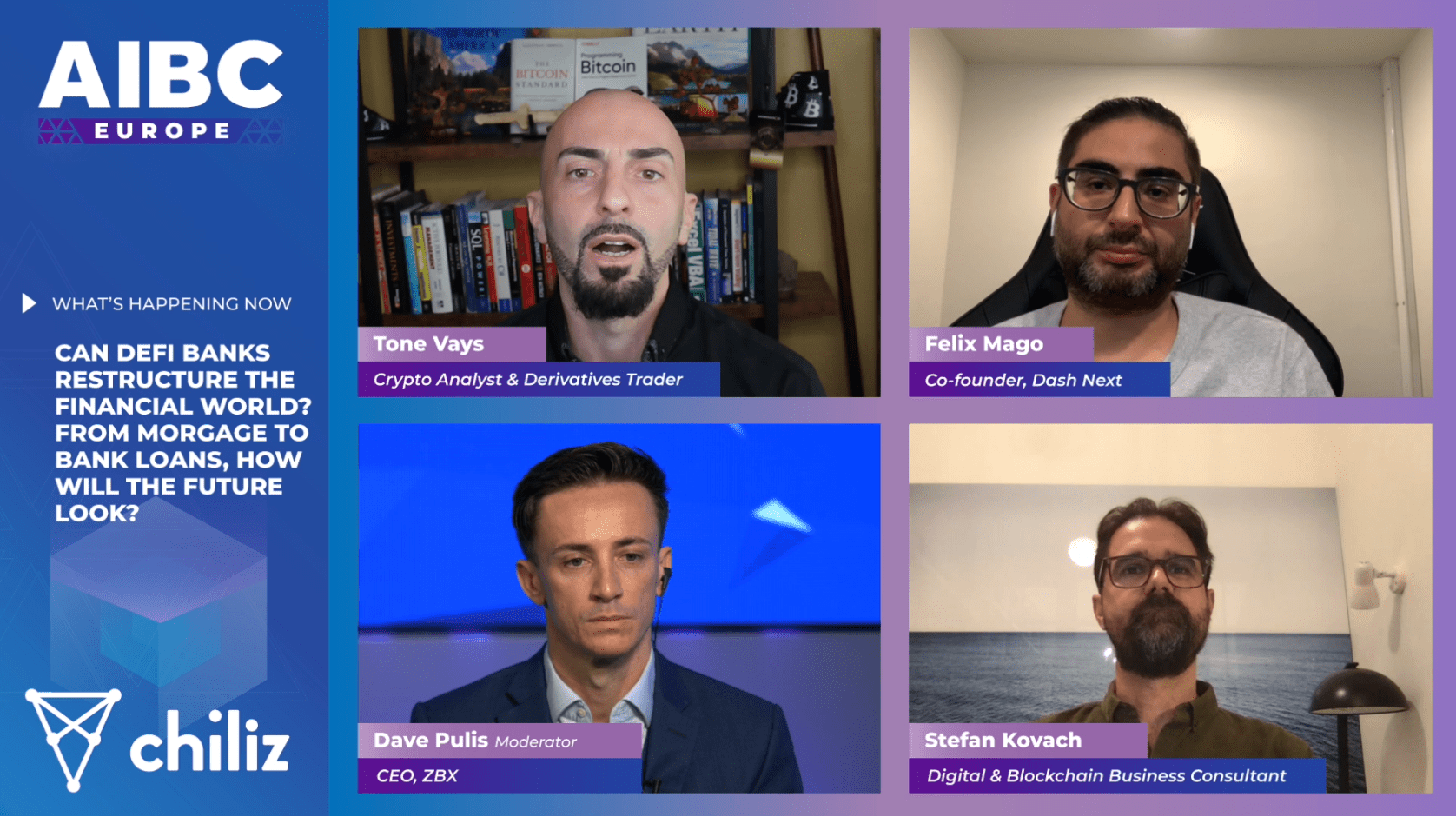 Pulis then asks another question to identify current developments and analyse their shortcomings and challenges, to which Vays starts by saying that by being decentralized, Bitcoin provides three properties; unconfiscatability, censorship resistant value transfer and it's finite supply of 21 million bitcoin, saying how if any of thes eproperties are changed, the faith in bitcoin and most other cryptocurrencies dies.
In reply to Vays criticism of most non-Bitcoin cryptocurrencies, Mago talks about his company Dash Next and discusses the various developments since the inception of the company, followed by Stefan Kovach who says that he blieves that defi is enabling an exclusion of the middle man through a certain protocol, but at the same time it is very likely that most of the projects will not stand the test of time since only a few truly provide the value to thrive in the industry.
The concluding comments looked to the horizon of the cryptoworld, with Vays saying that you can now use Bitcoin which is a decentralized form of money transfer, Mago following suite and saying how unpreictable it is, and how there is a need to make it more accessible to the masses, and Stefan complements Mago on the user-experience stressed by Mago himself, and the importance of trying to see how regulators will approach Defi.
About SiGMA Europe Virtual Expo:
The future of events is here. SiGMA Europe is delighted to announce, for the very first time, an innovative new Virtual Expo taking place on 24th and 25th November, 2020, from the comfort of your own screen. Hot on the heels of the success of the SiGMA Asia and SiGMA Americas Digital Summits, we are elevating your online event experience even further in the form of a fully interactive, state-of-the-art virtual events space, including a brand-new cutting-edge expo floor. Check the full agenda here and register for free!